Carteret Community Foundation awards local grants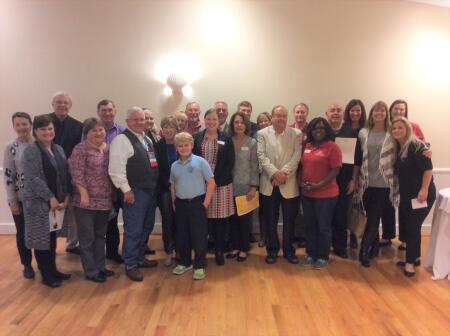 The board of advisors of the Carteret Community Foundation announced local grant awards from its community grantmaking fund, the J.O. and Ruth Barbour Memorial Fund for Elementary Education, the J.O and Ruth Barbour Memorial Fund for Wildlife Habitat and the Pearl's Pantry Fund Endowment at a reception on Nov. 17 at The Dunes Club in Atlantic Beach.
Richard McIntyre, president of the Carteret Community Foundation, applauded the nonprofit grant recipients. "The mission of the Carteret Community Foundation is to 'enhance the quality of life in Carteret County through giving,'" he said. "We are so pleased to be able to support the great work of these nonprofits and their dedicated volunteers because they make life better for every citizen in our area."
Terry Robertson, chairman of the Carteret Community Foundation grants committee, noted that the grants would not be possible without the support of individuals and businesses in the community. "Our local donors are key to the success of this annual grant program," said Robertson, "Every dollar the Carteret Community Foundation raises stays right here in Carteret County to support these great organizations." The Carteret Community Foundation hosts three fundraisers annually to fund its' local grant program: Golfing for Grants, held every spring, Seafood Festival Parking Lot fundraiser and The Chairman's Challenge Campaign, a matching grant campaigned designed to increase funding from the Carteret Community Grantmaking Fund.
This year's grant recipients include:
Backpack Friends for Backpack Friends
Beaufort Historical Association for walking wour brochure
Boys & Girls Clubs of Coastal Carolina for SMART Girls
Broad Street Clinic for nebulizers for home use
Carobell, Inc. Station Club for document shredder
Carteret County Partnership for Children for Reach Out and Read
Crystal Coast Autism Center for Scholarships Assistance Program
ECARA for Big Ship Reef Project
Hope Mission of Carteret County, Inc for cooking with gas
Make-A-Wish Eastern NC for wish granting in Carteret County
NC D.A.R.E Officers' Association for D.A.R.E. program supplies
Sts.Egberts Catholic School for One-to-One Chromebook Program
TROSA (Residential Substance Abuse Recovery)
Share this: