Chowan Community Funds Foundation initiates nonprofit roundtable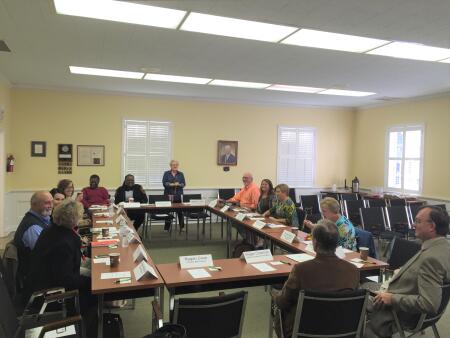 The board of advisors of the Chowan Community Funds Foundation initiated a nonprofit roundtable in partnership with the Edenton-Chowan Chamber of Commerce on Nov. 17, according to Katharine Little Farless, board president.
The program gathered nonprofit leaders from across Chowan County for a community discussion on collaboration, grants and agency endowments.
Participating organizations included:
Chowan Perquimans Smart Start
Destination Downtown
Edenton-Chowan Chamber of Commerce
Edenton-Chowan Food Pantry
Edenton Farmers Market
Edenton Historical Association
Kadesh - Chowan Cultural Heritage Foundation
Ukraine Connection Ministries
VolunTEEN with Vidant
"The Chowan Community Funds Foundation is excited to initiate this important community nonprofit collaboration," said Lynne Layton, Chowan Community Funds Foundation board member. "We are honored to convene our local nonprofits working to make Chowan County a better place to live and work." The event is expected to become a recurring quarterly gathering by the Edenton-Chowan Chamber of Commerce.
Share this: