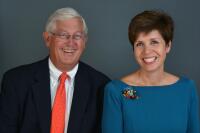 NCCF's mission is to inspire North Carolinians to make lasting and meaningful contributions to their communities. At perhaps no other time in recent history has NCCF's work at every level converged to test that promise than during fiscal year 2016-2017.

Your meaningful contributions to the North Carolina Community Foundation Disaster Relief Fund have dramatically illustrated our mission in action. Generous souls from throughout our state, nation and even the world have come together to partner with us on relief and recovery in the aftermath of last October's devastating storm, one of the worst in North Carolina's history. Almost $800,000 has been donated to the NCCF Disaster Relief Fund, a record level. Gifts and givers range from small amounts from our youngest citizens to large contributions from major foundations and corporations. All combine to make a difference.
We continue to be inspired by your donor stories. One example is of a terrified young father who could not reach his children, temporarily trapped with his parents in a flood zone. While waters eventually receded for a safe reunion, the flood damage he witnessed in his hometown of Lumberton galvanized this entrepreneur to motivate scores of Triangle businesses to give to NCCF's Disaster Relief Fund. His efforts over a single weekend resulted in more than $30,000 in recovery monies directed to the Robeson County Community Foundation.
Nearly 700 donations have allowed us to allocate two rounds of grant funding totaling almost $500,000 through our affiliate foundations serving the hardest hit counties. One round of grants took place at the end of 2016 and another is underway. In addition, NCCF plans a few regional grants and has begun to forge partnerships with three longterm recovery groups working throughout eastern North Carolina, each of which has received a $35,000 grant from our Disaster Relief Fund.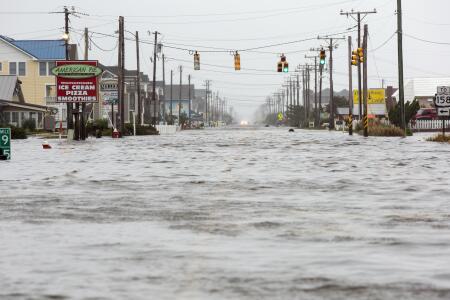 Our ongoing response to Hurricane Matthew illustrates the value of a community foundation in general and the North Carolina Community Foundation in particular. The very existence of a disaster relief fund provides the necessary vehicle to capture contributions needed to support recovery. Our access to multiple communications channels allows us to articulate dire needs and offer our fund as a trusted way to help. We rely on the local knowledge and expertise provided through our network of affiliate board members, who have first-hand knowledge and share critical information about needs in their communities. Our administrative support ensures that funds are ethically gathered and efficiently distributed. And with a bit of pride, we note that NCCF receives no administrative fees for any of these extensive activities.
In addition to disaster relief, NCCF carried on a myriad of mission-driven activities this past year, partnering with fundholders, donors and our affiliate network to address ongoing needs and opportunities throughout our state.
Our fundholders and donors fuel our work and dictate most of our activities. Our staff is strategically organized to serve your needs, from careful stewardship of the funds you've entrusted to us to effective grantmaking on your behalf − with a full array of services in between, including philanthropic, legal and marketing counsel. We were so honored to welcome 53 new endowments to our family of funds this fiscal year. New funds are listed on page 5, with several of their stories highlighted on our website.
Gifts this year topped $20 million. Your donations, new fund creation and a strong market performance allowed us to reach $246.8 million in assets, another record level. These and other important metrics are expanded on pages 6 and 7 of the report.
Each and every new endowment and our 1,200 existing funds are important to North Carolina, providing lasting investments in people, communities and important causes through annual grantmaking. Graphs on page 6 show that our affiliates, fundholders and women's giving groups support a range of causes, with grants totaling $14.2 million this past fiscal year.
We also help companies realize their philanthropic goals and are proud of the support we have provided to Duke Energy and the Biogen Foundation as they invest in the future of our state. NCCF is interested in growing this area of grants administration and welcomes your inquiries and referrals.
---
Building strong communities throughout North Carolina is the essence of the Foundation's philanthropy, and we recognize our partnership with NCCF's statewide affiliate network as a primary way to deliver on that promise. This requires strategy and leadership, and NCCF is fortunate to have both. Our Blueprint for Success is a plan created four years ago and driven by the Affiliate Impact Committee, a leadership group comprised of our statewide board of directors and advisory board members from every region. The Blueprint ensures we're on the right path, encouraging strong boards that produce leaders who can connect community needs with available resources; a growing family of funds to help fuel those resources; and effective local grantmaking to support local needs and opportunities.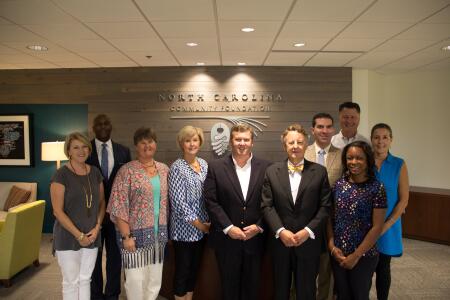 This is paying dividends. Many of our affiliate boards are working closely with other local leaders in their communities to identify key issues, serving as catalysts to bring together representatives from nonprofit, education and government sectors to tackle challenging problems. Examples of strong affiliates helping to build stronger communities abound. The Craven County Community Foundation is spearheading an effort to battle homelessness. The Catawba Valley Community Foundation, in partnership with the Unifour Foundation Endowment, is leading community conversations on the growing opioid crisis. The Beaufort- Hyde and Wake affiliates are conducting meetings with nonprofits to strategize on capacity building. Many others are in the planning stages, some reporting inspiration from last fall's Affiliate Forum, a biennial event that assembles representatives of our affiliate foundations from throughout the state to meet, mingle and share best practices.
NCCF was again gratified by your generosity when we reignited our annual Chairman's Challenge matching funds campaign, designed to build community grantmaking among NCCF affiliates. While launched just one month after Hurricane Matthew, you came through again. Your gifts, coupled with a healthy match from several anonymous donors, netted a record $425,000, split proportionately among participating affiliates. This brought our four-year Chairman's Challenge total to more than $1 million, which is making an impact in our communities across the state. Community grantmaking is at the heart of our work, and this grassroots campaign directs your dollars where they mean the most to you. Local dollars stay local, supporting quality of life issues that make a difference in your towns and counties. Our fifth Chairman's Challenge campaign begins Nov. 1, and you'll hear more about this soon.
Scholarships are perhaps one of our most tangible investments in the future, providing hopes, dreams and promises that have the power to alter individuals, families and entire generations. We are proud to administer more than 150 scholarships that last year supported 333 students with nearly $740,000 to further their educations. All have a story to tell, some we've shared on our website as Scholar Spotlights. Sometimes we are lucky enough to connect with these outstanding young people and forge relationships, as is the case with Timothy Harrell, a 2012 recipient of the generous Mary Ferebee Howard Scholarship held with the Edgecombe Charitable Foundation. This amazing young man, a 2016 graduate of UNC-Greensboro, made an impression on us from the beginning, even prompting us to devote an entire wall in our Raleigh headquarters to an inspirational quote gleaned from his application. He stopped by to see us recently, and we captured his photo at our new quote wall (above).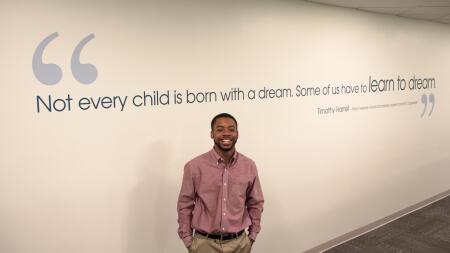 ---
We mentioned the importance of strong leadership among our affiliate foundations, and it is also key on our statewide board. NCCF has enjoyed a long history of outstanding individuals helping us to forge the way of a statewide community foundation. We appreciate the many contributions of Linda Staunch, who this spring transitioned her role as board chair to James Black, III. Several of our directors rolled off the board last year, including Brian Crutchfield, Sarah Belk Gambrell, Robert L. "Roddy" Jones and Dean Painter, and we thank each of them for their outstanding leadership and many philanthropic contributions to our state. Their years of service have helped mold NCCF into what it is today. We were all deeply saddened by the death of Billy T. Woodard, who made significant contributions to NCCF from our beginnings until his retirement from the board last year. Visit our website to read more about this exemplary philanthropic leader.
We are also fortunate to benefit from strong leadership among our staff and an extremely talented and dedicated team. We welcomed Wilson Simmons as our new CFO in May, as well as several other new colleagues on the finance and community leadership teams. Please visit our website to read about these extremely qualified individuals.
We relocated our Raleigh headquarters this past year to new space that encourages collaboration and creativity among our team and our partners across North Carolina. We were honored when First Citizens' Holding family sponsored our new philanthropy center, named after the late Lewis R. Holding, the Bank's former CEO and the visionary leader who founded NCCF nearly 30 years ago. This beautiful conference center provides ample meeting space and expanded technology for our board, staff, affiliates and nonprofit partners throughout the state. It's a fitting tribute to the lasting legacy he created for North Carolina through the North Carolina Community Foundation.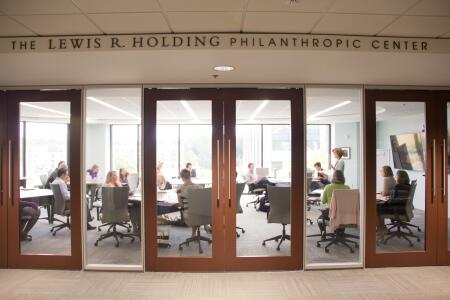 We are in the business of encouraging legacies. We work every day with people like you who care about the future of your communities, our state's important institutions and your philanthropic passions. We are so fortunate to partner with you in this transformative work. Our mission is to encourage North Carolinians to make meaningful contributions to our state, and we get our inspiration from you. Together, we are making a difference.
Sincerely,

Jennifer Tolle Whiteside, President and CEO
James Black, III, Chair of the Board
Share this: