Dorothea Dix Park: North Carolina's Central Park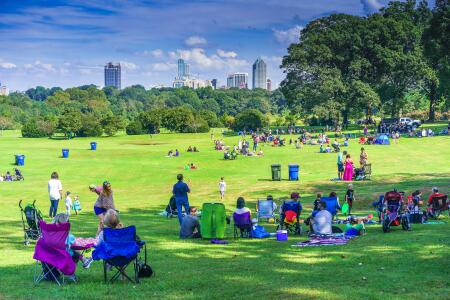 What would become of the Dorothea Dix property in the middle of Raleigh has been discussed for more than 15 years, ever since the decision was made to move the psychiatric hospital and its operations to Butner, NC.
The ultimate plan to convert the acreage into a park has taken a circuitous route, involving local and state government officials, developers, community organizers and citizens. Many possibilities have been considered since the 2003 announcement of the facility's closure, with public interests winning out in the end. The result was the City of Raleigh's purchase of the campus for a future destination park.
While the property rests in the heart of Raleigh, the vision for its usage far exceeds the municipality. The potential and scale suggest a landmark for the entire state and beyond.
Sean Malone called the development of the 308-acre Dix Park in downtown Raleigh an "unparalleled opportunity" in the country. "Nowhere else in the United States is there this contiguous acreage in the heart of the city, with the potential of creating a world-class urban park," he added.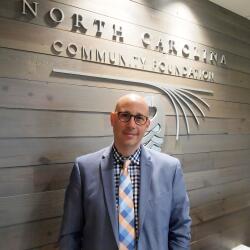 Malone is the first president and CEO of Dorothea Dix Park Conservancy, which is the nonprofit created to work in partnership with the City of Raleigh to ensure the development and long-term success of the park for the citizens of North Carolina. He works closely with the city to ensure that the project involves citizen and community input at every level. "We want this to be a park for everyone, created by everyone," he said. He recently moved to Raleigh from Milwaukee, where he served as CEO of the Frank Lloyd Wright Foundation.

One level of input includes donors who have had the foresight to establish funds to benefit the park with the North Carolina Community Foundation. "This is an extraordinary group of local leaders who have had the vision and generosity to basically give to an idea, to something that doesn't fully exist yet," Malone said. He added that the vote of confidence also applied to the NCCF. "It says a lot about the endeavor and the Foundation that they are demonstrating this level of vision and confidence."
NCCF CEO and President Jennifer Tolle Whiteside said the Foundation was honored to administer the funds for the Conservancy. "This project is extraordinary on every level, from the citizen input to the volunteer leadership," she said. "We are extremely gratified to steward these funds."
Those interested in contributing to the Dorothea Dix Park Conservancy Endowment or to the Dorothea Dix Park Conservancy Planning & Development Fund may give online here or mail a gift to NCCF, 3737 Glenwood Ave., Suite 460, Raleigh, NC 27612.
To learn more about Dix Park Conservancy or to get involved in one of the many citizen committees, visit dorotheadixpark.org. We will be writing more about this project as it progresses, so stay tuned!
By Noel McLaughlin
Share this: