Affiliate Impact Committee members pass the gavel
NCCF's first Affiliate Impact Committee was created four years ago to help guide the strategic direction of NCCF's affiliates across the state.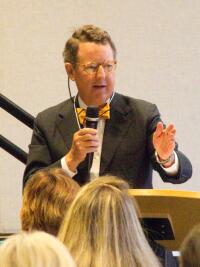 Representing affiliate leadership and NCCF staff, the committee was instrumental in developing a plan called the "Blueprint for Success" to help advisory boards focus their work, according to Sally Migliore, director of community leadership. "The Blueprint set out a process that local advisory boards are currently using based on their affiliates' and local communities' needs and opportunities," she said. "It was important work and has launched our affiliates on a journey to enhance their effectiveness in their communities."
The Blueprint has helped local advisory boards to focus on four key areas: leveraging grantmaking; developing strong boards reflective of the local communities we serve; inspiring local philanthropy to grow affiliate assets and a "family of funds;" and positioning affiliate leadership as catalysts to address community needs.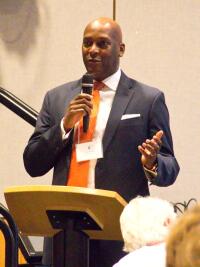 After four years of hard work, the time has come to name a new committee. The newly constituted Affiliate Impact Committee's goals are to help develop criteria to assess the effectiveness of the Affiliate Blueprint for Success thus far and recommend further training and resources to support affiliates' success.
The new Affiliate Impact Committee continues to include statewide board members and representation from each region:
NCCF Board of Directors
James Narron, Chair
Juan Austin, Co-Chair
Affiliate Advisory Boards
Coastal Plains North Region
Jamilla Hawkins, Board Member, Edgecombe Charitable Foundation
Coastal Plains South Region
Erika Churchill, Board Member, Greene County Community Foundation
Northeastern Region
Beth Wilder, President, Beaufort-Hyde Community Foundation
Northern Piedmont Region
Al Wheless, President, Franklin County Community Foundation
Northwestern Region
Jamie Treadaway, President, Catawba Valley Community Foundation
Sandhills Region
Jan Hayes, Board Member, Lee County Community Foundation
Southeastern Region
Bob Kornegay, President, Duplin County Community Foundation
Western Region
Beth Lofquist, Board Member, Jackson County Community Foundation
Staff Liaison
Sally Migliore, Director of Community Leadership
Share this: