NC Community Foundation hosts Pop-Up Philanthropy event in Rocky Mount
The Futrell-Mauldin Community Foundation for Greater Rocky Mount and Edgecombe Charitable Foundation awarded nearly $100,000 in local grants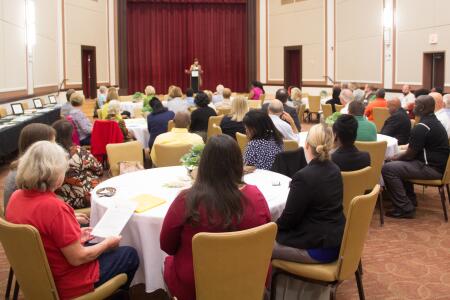 The North Carolina Community Foundation and local affiliate foundations, the Futrell-Mauldin Community Foundation for Greater Rocky Mount and Edgecombe Charitable Foundation, hosted a Pop-Up Philanthropy event Oct. 12 in Rocky Mount.
The event was designed to raise awareness about the resources that the two local affiliates and NCCF provide to the area, bringing together current and future grantees, fundholders and other partners. The luncheon event at the Booker T. Theater also featured a presentation of grant awards to local nonprofit organizations from both local affiliate foundations. On hand to meet with local philanthropists, professional advisors and nonprofit leaders were NCCF senior staff and local and statewide board members.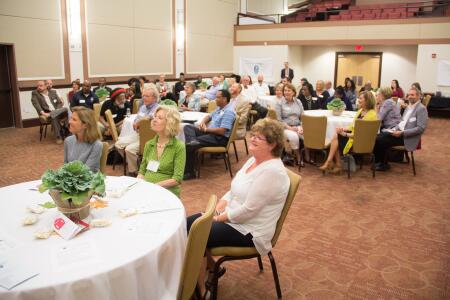 "The Pop-Up Philanthropy event provided us with a wonderful opportunity to discuss resources the community foundation provides to the Nash and Edgecombe areas," said Jennifer Tolle Whiteside, NCCF president and CEO. "We see a lot of interest in funding important nonprofit programs that impact local needs and how individuals, organizations and businesses can create permanent endowment funds that will serve as permanent resources in these local communities forever."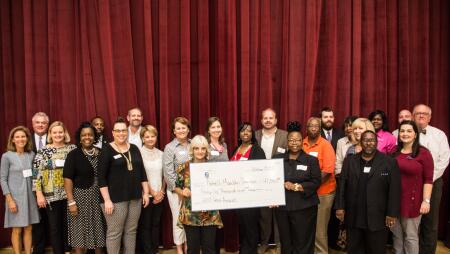 Awarded grants from the Futrell-Mauldin Community Foundation for Greater Rocky Mount were:
$500 to Association for Learning Disabled and Handicapped for Summer School 2018 for exceptional students
$1,000 to Buck Leonard Assoc. for Sports & Human Enrichment, Inc for the Growing-up SSTEMA-Wise Youth Enrichment Camp Series
$1,000 to the City of Rocky Mount for the Rocky Mount Litter Cleanup Project
$500 to Concerned About People, Inc. for the Read-Generations program
$6,000 to Down East Partnership for Children for sustaining the Family Resource Center
$2,000 to Hooves for Hope for general operating support
$1,000 to Inter-Faith Food Shuttle for community feeding
$5,000 to Meals on Wheels Rocky Mount for general operating support
$5,000 to My Sister's House for general operating support
$1,000 to Nash County Historical Association for Stonewall Manor renovations
$2,000 to Southern Documentary Fund for the Origin of the Dream
$6,000 to Peacemakers of Rocky Mount, Inc. for the Freedom School
$500 to Special Olympics North Carolina for Special Olympics Nash County
$1,000 to Tar River Choral & Orchestral Society, Inc. for positive percussion power
$5,000 to The Impact Center for the ELEV8 program
$2,000 to TROSA (Triangle Residential Options for Substance Abusers, Inc.) for residential substance abuse recovery services for individuals from Rocky Mount
$5,000 to United Community Ministries for House the Children
$3,000 to Williford Family Resource Center for "Books, Breakfast and More"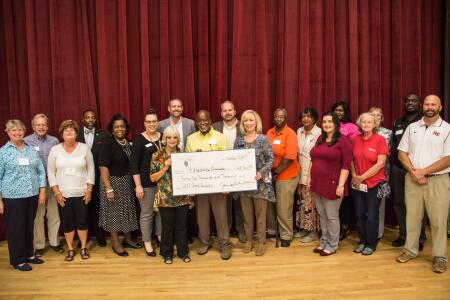 Awarded grants from the Edgecombe Charitable Foundation were:
$999 to Association for Learning Disabled and Handicapped for tutoring in Edgecombe County for exceptional students
$1,150 to Buck Leonard Assoc. for Sports & Human Enrichment, Inc for Growing-up SSTEMA-Wise Youth Enrichment Camp Series
$2,000 to Community Medicine Foundation Inc.-VOICE for Community Medicine Foundation Inc. VOICE
$2,000 to Down East Partnership for Children for Sustaining the Family Resource Center
$1,750 to Edgecombe Cancer Support Foundation for Run to Live 2018
$2,600 to Edgecombe County Memorial Library for Edgecombe County Archives Storage and Access
$3,631 to Michaels Angels Girls Club for We STEMulate
$2,500 to My Sister's House for general operating support
$2,450 to North Edgecombe High School Athletic Department for general operating support
$5,000 to Southern Documentary Fund for Origin of the Dream
$10,000 to Peacemakers of Rocky Mount, Inc. for the Freedom School
$1,250 to Pinetops United Methodist Church for BookBag Buddies
$2,000 to Prevent Blindness North Carolina for Star Pupils Edgecombe County
$2,500 to Tarboro Community Outreach for food security
$1,770 to Tarboro in Bloom, Inc. for creative alleyways in downtown Tarboro
$2,000 to TROSA (Triangle Residential Options for Substance Abusers, Inc.) for residential substance abuse recovery services for individuals from Edgecombe County
$1,250 to Truth Foundational Ministries CDC Inc (TFM) for the food pantry
$5,000 to United Community Ministries for House the Childre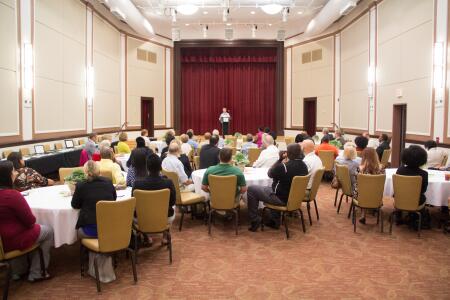 Sam Johnson, Futrell-Mauldin Community Foundation for Greater Rocky Mount, and Jane Thorne, Edgecombe Charitable Foundation board president, thanked the community for its support at the event. "These grants are important to our community and our quality of life," Johnson said. "Critical programs would not be possible without the generosity of many individuals and organizations that have supported our community fund."
Share this: