Announcing the NCCF's Green Team!
I'm excited to announce the creation of the Foundation's Green Team, our first-ever! And I am honored to serve as team captain.
Many of us on the Foundation's staff share a passion for environmental causes. And, through our grantmaking programs, our Community Leadership team supports a host of environmental initiatives and conservation projects. Since 1992 we've provided annual grants totalling over $90,000 to the nonprofit organization Keep North Carolina Beautiful for environmental education, litter prevention, waste reduction, and statewide beautification projects. One of our newest endowments for the Mountains-to-Sea Trail helps maintain 900+ miles of footpaths and bike routes across the state. And, through our partnership with Currituck-Dare Community Foundation, we've provided thousands of dollars in grants to support our coastal state parks, endangered sea turtles, wild horses, and even dolphin research on the Outer Banks.
Of course grantmaking isn't the only way we can support the environment. Though many individuals on our staff are already recycling, carpooling, minimizing waste, and buying local, we've never discussed how we can work together as a team to minimize our collective footprint.
At our Green Team kick-off meeting last week, we decided that our first step will be to raise awareness and promote staff collaboration.
Over the coming months, we will embark on a journey to institutionalize our sustainability practices. We would love to hear from you, our loyal readers in the blogosphere. Have you "gone green" at your workplace? How did you get started? What challenges did you face?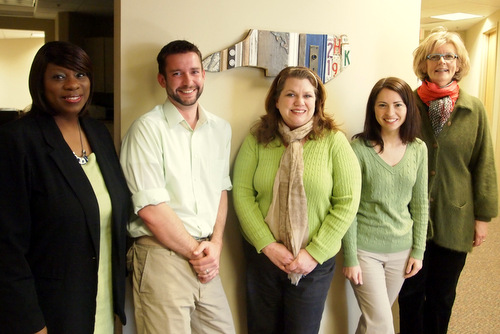 NCCF's new Green Team has representatives from Communications, IT, Finance, and Community Leadership.
(L-R): Lori Johnson, Patrick Callahan, Kelly Lee, Sandi Matthews and Mary Anne Howard.
Share this: