Landis elected to NCCF's statewide board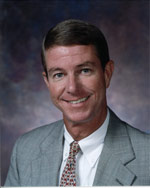 H. Kel Landis, III has been elected to the statewide board of the North Carolina Community Foundation, according to James W. Narron, board chairman.
Landis will assist the NCCF board in the areas of funds development, grant-making and strategic planning to ensure that the organization continues to meet community needs across North Carolina. Board members also serve as the Foundation's ambassadors throughout the state.
Narron said that the Foundation would benefit from Landis' professional stature as a business leader who has thorough knowledge of North Carolina's economy and communities.
Landis is a partner with Plexus Capital, a financial services firm that has offices in Raleigh and Charlotte. He is a trustee with the Kenan Institute for Private Enterprise, is a member of the Kenan-Flagler Board of Visitors and serves on the boards of the University of North Carolina at Chapel Hill Foundation and the NC Supplemental Retirement Board. He received both his undergraduate degree and MBA from UNC-Chapel Hill.