Local youth present at NC Youth Giving Summit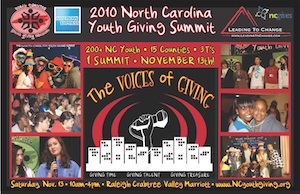 A group of dedicated youth philanthropists from KIPP High School will not only participate at this weekend's NC Youth Giving Summit, they will be presenting one of the workshops!
The Youth of Extrordinary Spirit, or YES team, from KIPP will be joining over 200 other youth philanthropists from across the state this Saturday, November 13th in Raleigh, NC at a Summit that is all about giving back to community.
The YES team from KIPP Pride won an opportunity to be presenters at the 2010 Summit with their workshop topic: "Don't be the Grinch". The group will talk to other young people about the need to stay open to new ideas and other perspectives during a grants process. KIPP's YES team has the opportunity to win an additional $500.00 in grant dollars should their workshop be chosen as the winner on Saturday.
There are 24 students participating in the Teens in Philanthropy iniative at KIPP, this is the third year of programming and partnership between KIPP, the North Carolina Community Foundation and Leading To Change, who will be presenting and hosting the Summit.
YES will be accepting proposals from youth serving organizations in the Northampton/Halifax area. Proposals and projects must be youth driven and benefit youth in Northampton/Halifax. For more information, contact Kelly Lee at klee@nccommunityfoundation.org .