Women Givers of Nash-Rocky Mount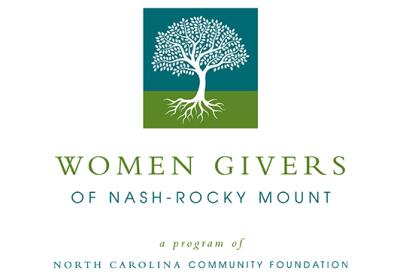 Updates to this page coming soon.



The giving circle currently has about 25 members who agree to donate $250 annually to the gift fund. Members vote annually on how contributions are to be distributed to the local community. Those interested in joining should email Kelly Lee, NCCF regional director, or call her at 252-557-0278. 
Our beginnings
In May 2008, the Nash-Rocky Mount community joined the ranks of communities across North Carolina and beyond by initiating a local women's giving group. Beginning with just a few members, our group expects to have 40 members by the end of 2011.
Our mission and focus
Initiatives that benefit women and families are our current priority. Our focus is to:
Provide needed resources to strengthen our community
Increase women's involvement in philanthropy throughout the Nash-Rocky Mount area
Assist in building an endowment to benefit future generations of women across the state

Our approach
Through a collaborative decision-making process involving members, we provide grants to local organizations and programs.  All women are invited to participate in our collective endeavor and are given the choice to be "silent" friends or active participants.
Membership and benefits
All members commit to contribute $250 annually. The distribution includes: $200 for the annual grant-making pool; $25 for administrative purposes; and $25 for the statewide Women's Fund, held by the North Carolina Community Foundation. All members receive one vote to determine the organization/s and program/s to receive annual funding. As an individual member, you also have the opportunity to:
Participate in an organization of women empowering other women
Help make strategic and informed decisions about philanthropy
Attend educational meetings and special events
Network with women who share similar values
Witness the power of collective support 
Grants program overview
A major purpose of the Women Givers of Nash-Rocky Mount is to strengthen the community through the power of the membership's collective giving. Through a carefully developed and streamlined grants process, our group provides financial support to local programs and services that have a strong impact on critical needs in our community. The process begins with the determination of priorities for funding, followed by a grant application process. Grants are awarded at an annual celebration event, which gives our community partners and members a chance to reflect on our common concerns and renew our shared commitment to make a positive difference.
This year, the application process has been moved to our new online application system!  To setup an agency profile, create and submit an application, and submit finally reports for winning applications, use our online application portal to manage your account.
History of grant awards
2015
United Community Ministries -- $3,000 for the Bassett Center (family homeless shelter)
2014
Peacemaker's Family Center  -- $2,500
Meals on Wheels of Rocky Mount -- $2,500 
2012 
United Community Ministries -- $2,000 for support of their family homeless shelter  
2011 
My Sister's House -- $7,500
2010
Boys & Girls Clubs of Nash/Edgecombe counties received funding in support of the "Smart Girls" program
2009
My Sister's House 
Down East Partnership for Children 
2008
My Sister's House 
United Community Ministry 

Contact
For more information contact Kelly Lee at klee@nccommunityfoundation.org.