Autry scholarship honors well-loved principal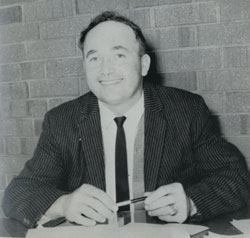 NCCF is honored to hold many scholarships and funds acknowledging respected educators, some departed and some still with us. Recently we've profiled Virgie May of the Red Oak School in Nash County and Richard Murphy of Wake. Other examples are plentiful.
One of our newest funds honors the late Raz Autry, the first and much-loved principal of East Montgomery High School. (He also worked in Hoke County, where students and parents alike revered him.) He was someone who knew all the students' names and had a true gift for connecting with everyone, according to Kerry Hensely, an East Montgomery High alum and president of the advisory board of the Montgomery County Fund. "People just don't forget that," she said. "He truly cared about us."
A recent reunion of East Montgomery High School alumni prompted more recollections of the departed educator and inspired several former students to embark on a fund-raising campaign to establish a scholarship in Autry's name. In addition to Hensely, Judy Stevens was among those in attendance. She also is a member of the Montgomery advisory board, so both women understood the benefit of establishing a scholarship endowment with NCCF and sought guidance from Mary Anne Howard, NCCF regional associate for the Sandhills area.
What impressed Howard was not that these Montgomery County residents raised the necessary $25,000 to start the fund, but that they developed the resources so quickly! "When this board and this community decide they want to do something, they consistently work together to get it done," she said. The Raz Autry Memorial Scholarship Endowment was established just months after the idea was introduced and provides scholarships for graduating seniors of East Montgomery High School attending an accredited institution of higher learning. Those interested in giving to the Raz Autry Scholarship – or any scholarship fund – can visit our online giving page for details or simply mail a contribution to NCCF at 4601 Six Forks Road, Suite 524, Raleigh, 27609. Be sure to designate the fund name in the memo line of your check or dropdown box of our online giving form.
Share this: