Richard Murphy Scholarship: A legacy to inspiration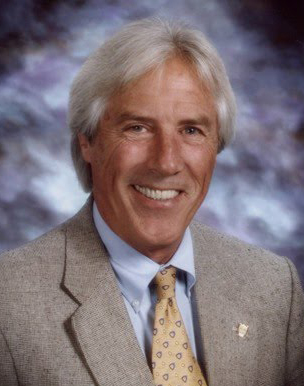 Editor's note: This story originally appeared on our website in 2012.
Richard Murphy died in 2011 at the age of 62, but his friends, colleagues and many acquaintances continue to honor him and his many contributions to youth, education and the Wake County community through an endowment created in his memory.
The Richard J. Murphy Memorial Scholarship was established just last year, and already its balance exceeds $31,000. The fund has awarded two Leesville Road High School 2012 graduates with scholarships of $2,500 each, which is generally unheard of the first year.
The success of the fund is no surprise to Roy Teel, who credits both Murphy and the fund's planning committee. Teel was a colleague and a friend. Both taught together and later were peers as principals in Wake County.
"Richard was an extraordinary leader who brought out the best in both students and staff," Teel said of the impetus behind the fund's creation. "After his death many people asked, 'How can we honor him?'" 
Teel said the work of the planning committee has been outstanding. "A small nucleus of people has committed a great amount of time and energy to get this scholarship off the ground," he said. As a founding board member of the George A. Kahdy Scholarship honoring Enloe High School's first principal, he knows first-hand the work involved in creating and building a successful fund.
Leading the Murphy scholarship planning committee is Mary Propes, retired Leesville Road High School social studies teacher. She had known Murphy since they both attended UNC-Chapel Hill when she was a senior and he was finishing up a graduate degree. They remained in contact as colleagues and friends over the years.
Murphy was chosen to open Leesville in 1993, which at the time was Wake County's first new high school in 15 years. Propes was hired to join the faculty. "Richard was a special person, and he catapulted Leesville High School to statewide recognition," she said. One of the secrets to his success was his ability to choose the right people and build the best team to create a new school, she said. "He had extraordinary perception about people and was an exceptional motivator."
The other "secrets" to his reputation as an outstanding educator of course focused on students. "His philosophy was simply to help students be the best they could be," Propes said.
Motivating excellent performance in both faculty and students came from Murphy's own teaching philosophy, Propes said. This included his commitment to:
Leading by example
Life-long learning
High expectations for everyone, including himself
"Being there" in the classroom, at ballgames and at nearly all school events
"This was a high school principal who knew practically everyone by name," Propes said.
One of the students Murphy knew well has a name that is also recognizable by almost everyone else. American Idol runner-up Clay Aiken was a student at Leesville during Murphy's tenure as principal, and still cites the support and encouragement he received in school as a key to his continued success.
Aiken's role as a student leader brought him in frequent contact with Murphy, and the two forged a special relationship that continued after graduation. Aiken invited Murphy to see him perform on Broadway and to other special performances.
This was not uncommon, according to Propes. "Mr. Murphy continued relationships with many of his students after they left schools where he was a teacher, coach or administrator," she said.
When Propes began recruiting members of the scholarship planning committee, she knew Aiken would bring a lot to the table. An early committee meeting showcased the singer's talent for motivation as he broke down the work involved in building an endowment into attainable steps. "Just think of everyone you know who knew Richard Murphy," he said to the crowd, which seemed initially daunted by the thought of raising resources to establish the fund. By meeting's end, most everyone was nodding their heads and brainstorming about who they planned to ask for support.
Reaching out to Murphy's many circles is one strategy that has helped the committee to both build and exceed the endowment's qualifying balance in such a short time, Propes said. "He was involved in so many groups, and we're reaching out to all of them." She advises others interested in creating a memorial fund to think of every conceivable population related to the honoree. In this case, a dynamic educator who was involved in many facets of the community created an almost endless list, including former, current and future Leesville students and faculty and those from many other schools. Murphy was also heavily involved in his church and athletics, having coached, led the North Carolina High School Athletic Association and played college soccer as an All-American for Campbell University. "We've experienced a good part of our success just from reaching out to all who knew Richard," she said. "And we haven't even scratched the surface."
Another contributor to the fund's success was a creative approach to building the coffers and raising awareness that revived the famous basketball rivalry between Leesville and Broughton high schools. The first annual charity basketball game staged a classic rematch between the two schools, with former players competing in a game that went down to the buzzer and a Broughton victory. Aiken also boosted attendance by generously donating his time and talent to sing the National Anthem before tip-off.
Plans are underway for developing other strategies that will continue to build the fund, Propes said. Jeanne Lawson, NCCF regional associate, says she has no doubt that the future of this scholarship is bright. "The widespread wish to create a legacy fund to memorialize a much-loved and respected educator combined with the work of a creative, hard-working committee have already assured the success of this endowment," she said.
For more information about the Richard J. Murphy Scholarship, visit murphyscholars.com. Click here for details on applying. If you're interested in making a contribution to the fund, visit GIVE NOW on our site, which outlines several options, including making a gift online. Also feel free to contact NCCF's main office at 919-828-4387.
Share this: