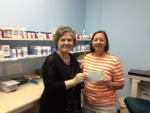 Funds that help to meet dire needs in our communities always translate into impact grants.

That is certainly the case with Pearl's Pantry Fund, established in 2005 with the Carteret Community Foundation by the late V.J. "Puck" O'Neal to honor his wife Pearl, also now deceased. "Pearl's Pantry Fund" was created to help relieve hunger and/or provide access to prescription medication among Carteret's low-income residents.
Having grown up working the fish houses along the Morehead City waterfront in the 1930s, the couple recalled their own time of limited means and wanted to reach out to those in need. After years of hard work, sacrifice and saving, the O'Neals were able to purchase and establish several seafood companies along the southeastern coast of the United States, ultimately settling in Key West.
When it came time to retire, however, their hearts led them home to Morehead City, where they initially shared the success of their life's work by establishing first a scholarship endowment and then the fund to meet human needs.
The board of directors of the Carteret Community Foundation administers Pearl's Pantry Fund. This year's recipient was the Broad Street Clinic to provide health services to local uninsured, low income residents. "It is our privilege to help realize Mr. O'Neal's dream that all Carteret County citizens have access to adequate food and medicines," said Pat Rauhauser, Carteret Community Foundation board chair, in a news release announcing the grant.
Edie Reed, executive director of Broad Street Clinic, said the organization was very excited to receive funding from Pearl's Pantry Fund to purchase medications for patients. "Frequently a patient needs a medication such as an antibiotic that is not in stock at our in-house pharmacy," she said. "It is important that we provide the medication in a timely manner, and Pearl's Pantry [Fund] is our solution."
Editor's note: part of this post was created from a 2007 NCCF annual report summary of the O'Neals' philanthropy in Carteret County.