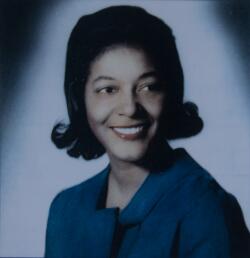 Dr. Carolyn Grantham Ennis has been an important pillar of the Johnston County community for decades, with a lifetime of distinguished service and widespread recognition for her giving spirit.

Dr. Ennis taught school for two decades and supervised instruction for the county school system for 25 years before coordinating community schools and special projects. Her deep love for education is rooted in her own education accomplishments, as a proud product of the Johnston County Schools and graduate of Duke University, New York University and Shaw University.
In addition to her love for education, Dr. Ennis has been a passionate supporter of a number of community organizations, including the Johnston County Community Foundation, where she served on the advisory board for a number of years. She has served as president of nine different Johnston County organizations, including the Association of Educators, Mental Health Association and the Modernettes Civic and Social Club.
In 2003, Dr. Ennis applied that passion for education and love for community to the creation of the Carolyn Grantham Ennis Scholarship Endowment with the North Carolina Community Foundation.
"I chose to create this scholarship fund because I am a product of Shaw University," said Dr. Ennis. "Therefore, I am indebted to this historical institution for preparing me to be a spiritual, academic and economic servant leader and influential follower to improve the positive, productive and prosperous conditions of my county, state and country."
Dr. Ennis found NCCF as her philanthropic home through Frank Holding, Sr. "When I mentioned my desire to Mr. Holding, he encouraged me," said Dr. Ennis. "In fact, he took me to Raleigh the next day to establish the fund."
Dr. Ennis trusted in the financial expertise of Holding when it came to starting her fund. "Mr. Holding recommended the NCCF fund because of its outstanding stability and efficiency," she said.
The scholarship fund seeks those who exemplify the values that Dr. Ennis considers imperative for good students and members of society: vision, valor, versatility and vivacity.
Dr. Ennis' preference is to benefit students from North Carolina, with priority for those from Johnston County who plan to attend Shaw University.
"The scholarship has meant more to me as a contributor than to the students who have been the recipients," Dr. Ennis said. "I know how much students need a good education, and I know how limited their family income may be," she said. "Without financial support many would not be able to get a college education, and a good education produces good citizens."
Since 2006, the fund has awarded scores of scholarships to students who exemplify the life of service Dr. Ennis has modeled.
The idea of service was so dear to Dr. Ennis that she composed a poem on what it means to her:
What Is My Motive?
If I help someone from day to day by the things I do or the things I say,
If I comfort the sick and aid the poor, extend real charity wherever I go;
Many will say a virtuous woman is she - but what is my MOTIVE is the question for me.
If I'm first to volunteer for any task; to offer my services even before I am asked;
If I work my fingers down to the bone - in my church, community or in my home;
Many will say a virtuous woman is she - but what is my MOTIVE is important to for me.
If my MOTIVE is for praise or an outside show, so I'll be recognized wherever I go
Or if my motive is for popularity in this life's race - where my MOTIVE will show in my face.
Though many may say a virtuous woman is she - but what is my MOTIVE is important to me.
My MOTIVE must be based on honest, sincere love to help my fellowman,
To serve God above, by doing the right thing for righteousness sake.
Though many may say a virtuous woman is she - but what is my MOTIVE is important to me.
Thus, my prayer each day as I go along is -
Lord, make me useful, courageous and strong. Let me forget self and trust only in THEE;
Make me love others who don't love me. TAKE MY HAND, PRECIOUS LORD, and LEAD ME ON, UNTIL MY WORK ON EARTH IS FINALLY DONE.
Though many may say a virtuous woman is she - but what is my Motive is important to me.
-- written by Carolyn G. Ennis - 1973