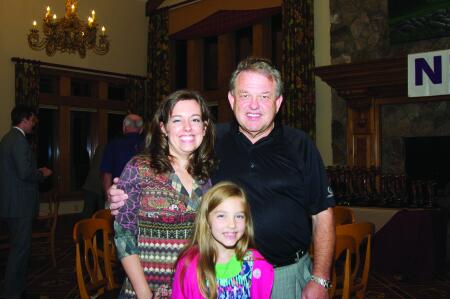 It all began with a simple conversation between two successful executives.
They asked themselves: "If we were beginning our careers today, would we have the same opportunities we had twenty years ago?" Neither man held a four-year college degree. Each had joined a growing company and worked steadily through the ranks to obtain a senior leadership position. Both enjoyed successful careers and contributed greatly to the communities where they lived and worked, and they each knew the answer to the question. In today's complex global-based economy, a college degree is a minimum requirement for many entry-level jobs, including career-track jobs in their own company.
This is how the Watauga-Ashe-Wilkes Scholarship Endowment was born. Since it was established in 2001 the endowment has provided more than $438,000 in financial aid and helped more than 75 students achieve their dreams of obtaining college educations. This happened because one man decided to make a difference and open the doors to college educations for young people in the three counties he has called home.
Phil Stevens, the scholarship's founder and president of its very active board, grew up on a large tobacco and cattle farm in Watauga County, went to school in Ashe County and while he worked for Lowe's made Wilkes County his home.
Stevens said his goal was simple. "I wanted to find a way to help young people receive a college education who, without financial support, would not be able to attend college," he said. "There were so many capable students in the three-county area that could not afford tuition, and I knew that I could make a difference in the lives of these young men and women and help them achieve their dreams."
The competitive Watauga-Ashe-Wilkes Scholarship provides $2,000 in financial assistance each year and is renewable for up to three additional years. For many of the recipients, it has made all the difference in obtaining a college degree.
"Being chosen as a recipient of the Watauga-Ashe-Wilkes Scholarship has opened a door for me that I thought was nailed shut," said Garret Hall, a 2011 recipient. "I want to say a special thanks to Phil Stevens for believing in me and giving me this opportunity to further my education. Without his kind generosity, I would not have been financially capable of attending college."
Stevens is proud that the recipients have an extremely high graduation rate and that many have returned to their home counties as teachers, medical professionals and business people. "I just can't think of a better way to strengthen a community than to invest in its young people," he said.
Stevens' vision for the long-term strength of the scholarship included a funding source. In 2001 he spearheaded the first Watauga-Ashe-Wilkes Scholarship Golf Tournament, an event that has regularly raised more than $100,000 annually for more than fifteen years. Under his leadership, the tournament has become a true community event, bringing together sponsors and participants from across the three counties and beyond.
Colby Martin, NCCF regional director for the Northwest, helps Stevens administer the scholarship endowment. "The Watauga-Ashe-Wilkes Scholarship Fund is a success story in so many ways," he said. "Phil Stevens has engaged donors, community members and board members who share his passion for helping capable kids complete their education."
Martin attributed Stevens' leadership to the tournament's long-term success. "His enthusiasm is contagious and enables him to get others excited about the long-term impact these scholarships have on the lives of area young people — and ultimately, the long-term impact on the well-being of the community," he said. "I have personally been inspired by his commitment. He is a driving force."
The scholarship fund has already awarded merit scholarships to more than 75 recipients. A couple of years ago, the W-A-W Scholarship Board established a second endowment that supports educators in the three counties by providing grant funding for technology and other needs. It has also supported a summer camp for children K-12 who suffer from asthma. For Stevens, it's just the beginning.
"My parents passed along a very strong work ethic that got me a long way in life," Stevens said. "The scholarship endowment was established so young people in the three-county area can achieve a higher education and go as far in life as their own hard work will take them."
Stevens described it as a vision that continues to make a difference. "I am so grateful for the help and support that I have received from everyone, and with their continued support we will work to build something even greater that will continue far into the future," he said.
For more information about the Watauga-Ashe-Wilkes Scholarship, email Colby Martin or call him at 828-358-0030 or visit the fund's website: wawscholarship.org.
Editor's note: This feature appeared earlier on our website and has been updated.