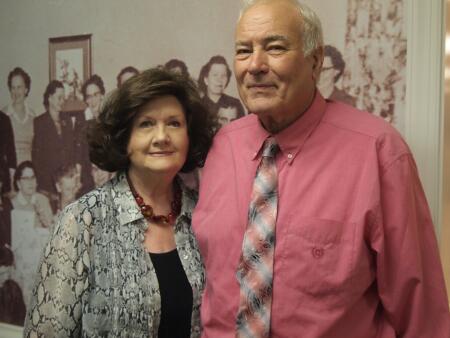 Gayle and H.L. Sorrell are retired educators whose devotion to their Harnett County community and generous spirits guide much of their lives.
The Sorrells are somewhat legendary within the North Carolina Community Foundation, where they are championed for the sheer number of gifts they have made and continue to make to their own family scholarships, as well as several other funds that they have helped to establish for the benefit of their Coats community and beyond.
Gayle and H.L. have made literally hundreds of personal donations over the years to the endowments they champion. Decades of giving have added up, greatly boosting these funds' grantmaking capacities. They are certainly the models for "slow and steady win the race," as all of these contributions have gradually grown endowments that make an impact in their local community and in the lives of area young people seeking to further their educations. "The Sorrells are the essence of community philanthropists," said Beth Boney Jenkins, NCCF's vice president for development. "Their generosity is quiet but mighty." Certainly they are examples of "unsung heroes" in anybody's book.
Birthdays, graduations, memorials, anniversaries or important occasions -- all are reasons for the Sorrells to write checks to contribute to their favorite funds. These include their family's scholarships: the H. Lentis and Maude Penny Sorrell Scholarship Endowment that supports students attending East Carolina's Brody School of Medicine and specializing in pulmonary medicine or a related field; and the Joseph Hawkins and Louella Lassiter Penny Scholarship for sophomores attending Campbell University and majoring in primary education.
They are also generous contributors to the Harnett County Community Foundation's community grantmaking fund, which H.L. helped to get started as a former president and active advisory board member of this NCCF affiliate. NCCF Regional Director Dawn Neighbors was a member of the HCCF board before she joined the Foundation, and she noted that H.L.'s involvement and leadership are still legendary among board members. "He helped to put into place endowments in Harnett's 'family of funds' that are important to the fabric of the community, and will be in perpetuity," she said.
H.L. was also instrumental in the establishment of the Harnett County Retired School Personnel Scholarship Endowment. He noted that this scholarship was languishing in certificates of deposit and urged his fellow co-founders to move it to the Harnett County Community Foundation so it would grow and benefit from the Foundation's administrative oversight as regulations mounted. "Somebody also needs to be around to look after the fund when we're all gone," he said. H.L. didn't stop there. He personally sent out more than 700 letters in a grassroots direct-mail campaign to grow the scholarship. And he can cite several recent recipients, their backgrounds and accomplishments.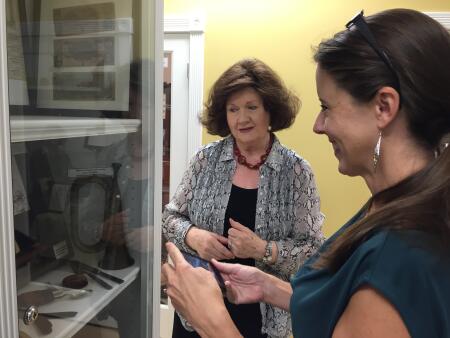 Another of the Sorrells' pet projects that enjoys the benefit of endowment is the Coats Museum, which is a wonderful salute to the town, its history and a simpler time and way of life. Their passion and keen knowledge were evident through a guided tour that highlighted vintage fashion, furniture, aviation and military involvement through the decades. (An ancillary exhibit on the importance of cotton to the early community is also noteworthy in the adjacent Cotton Museum, with both of these deserving of a separate feature story at a later time. For now, we invite you to visit coatsmuseum.com. There also is an extensive research center. Gayle writes a regular column on the town's history and museum happenings for the local newspaper, The Daily Record, and these are linked from the museum's website.
During the tour, a local resident popped in with a donation for the kitchen exhibit. She had found some antique stone bowls belonging to her mother-in-law and old newspaper clippings she thought Gayle would want to consider for the museum collection. Gayle accepted the gifts with enthusiasm, hugged the contributor and there was another example of the generous, warm spirit that guides the Sorrell couple's approach to philanthropy, and indeed, their lives.
When the museum was noted as a significant local resource for the Town of Coats, and indeed, the entire county and area, the Sorrells were quick to point out that so many people and organizations had contributed to the fund that made the museum complex and adjacent gardens possible. "Lots of people give to the Coats Museum," said Gayle. "It's not just us."
And that's the very definition of community philanthropy, said Jennifer Tolle Whiteside, NCCF's president and CEO. "Many people have embraced these causes and scholarships in this wonderful community," she said. "But the Sorrells are being humble, as it's their community leadership that has helped these endowments to grow and flourish."
When asked for the secret to his success in helping to start and grow so many funds for the community, H.L.'s philosophy is simple: "Don't ask anybody else to do something that you're not willing to do yourself."
by Noel McLaughlin