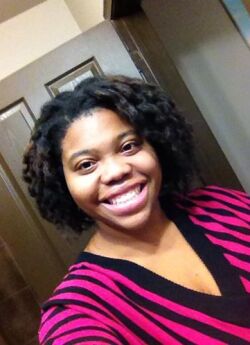 Latiqua Hardy from Greensboro is the next outstanding recipient in our Scholar Spotlight series. Latiqua graduated from Raleigh's William G. Enloe Magnet School in 2011 and has received the Katie Dunn Rogers Scholarship all four years she has attended the University of North Carolina at Greensboro.
While at UNC-G, Latiqua has been an ambassador for the African American Studies Club, a student panelist for the Student Conduct Team and secretary of the Refugee Buddy Program, which pairs refugee students with mentors.
Latiqua has had many challenges, including poverty and homelessness, but she has persevered and will graduate in the spring with a double major in sociology and African American and African diaspora studies. Her experiences have also led her to pursue a master's of social work after graduating from UNC-G, with the goal of becoming a clinical social worker and licensed clinical addiction specialist.
"I am able to understand and connect to others who have gone through similar life experiences, and I plan to enter a career that helps people who have had these life experiences," Latiqua said.