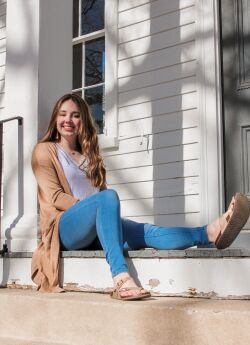 Savannah Anderson is a graduate of Croatan High School and will be attending Auburn University in the fall.
Anderson plans to major in mechanical engineering with a focus on robotics. In the future, she plans on working for the Walt Disney Imagineering Company, the company behind the robotics and animatronics at Disney attractions and parks.
Raised in a military family, Anderson had to start over every time her family had to relocate. Even though it was difficult at first, Anderson learned to adapt and thrive wherever she lived and is excited to utilize this skill in college.
Anderson is a recipient of the Joseph H. Tallman Scholarship in Mechanical/Electrical Engineering. "The best thing I can do is to believe in myself just like the Foundation believed in me and work tirelessly until I reach the goals I have for myself as well as the goals they have for me. Throughout my junior volleyball season, we had a motto that we lived and played by. 'Focus on finishing fearlessly.' "