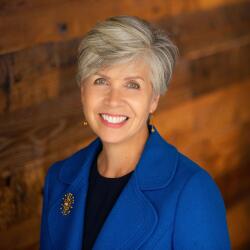 Sometimes it's a challenge to describe what a community foundation does in a sentence or two, particularly one with a unique statewide network of affiliates like NCCF. Sometimes citing specific examples helps to illustrate. And there has been no better, albeit tragic, example in recent memory than Hurricane Matthew to show what we do and to indicate our value.
It seems odd to use the word "value" in the same sentence as a catastrophe like Hurricane Matthew. This is the storm that kept on giving, and indeed continues as the extent of loss and devastation comes fully to light. Matthew and its wake of historic-level flooding have inflicted havoc in parts of eastern North Carolina.
Havoc – meet the North Carolina Community Foundation Disaster Relief Fund. Its very activation sums up the necessity and value of the community foundation model. First we witnessed agility as NCCF's statewide grants committee met to immediately re-activate the Foundation's Disaster Relief Fund. The fund itself provides the very vehicle necessary to capture the thousands of generous contributions needed for relief. Second, we lend our voice to share needs and to broadcast our fund as a way to help. Third are our local knowledge and expertise, which play a critical role as NCCF's affiliate boards of advisors who live and work in areas hardest hit by Matthew relay critical information about the devastation in their communities. And finally is our administrative support, which will ensure that funds are ethically gathered and efficiently distributed. A note of pride here: NCCF takes no administrative fees for these extensive activities. The explanation and value of what we do become easier to communicate.
Then there's the back story to the work of a community foundation – and that is our role to offer hope. Hope that things can be better, that communities can be made stronger, that most people are good and generous people who want to help. We have seen this hope at work almost hourly since the disaster hit. Donations have come from across the country − from money raised by a seven-year old girl to a six-figure gift from a major corporation and everything in between. The majority of our staff and board members have donated, friends and family members of our staff are giving and even gifts from folks who are themselves affected by flooding.
The hope that these donations offer is easy to translate ─ we care about our families and friends and most touching of all ─ people we do not even know who are struggling with the aftermath of Hurricane Matthew.
We hope and believe that things will get better. Who doesn't want to support that?
Editor's note: This blog was supplied to NC's Rural Center for its website and republished here with their permissions. If you would like to make a contribution to the NCCF Disaster Relief Fund, visit this page on our website.