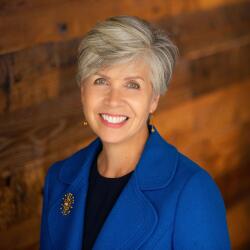 Editor's note: Jennifer's blog appeared earlier this week on the Center for Disaster Philanthropy's site.
This will go down as the storm that keeps on giving. Hurricane Matthew may have been downgraded as it reached North Carolina's coast, but its so-called "lowered status" has had devastating effects across the central and eastern regions of our state.
The flooding from Matthew prompted President Barack Obama to declare on Monday that a major disaster exists in North Carolina, making federal recovery funding available in 31 counties, at last count.
Emergency officials have conducted more than 2,000 rescues in the state, 32 school systems are closed, major highways remain blocked and nearly 4,000 people have taken refuge in shelters.
Widespread flooding, downed trees and power lines have rendered hundreds of thousands without power and caused mandatory evacuation for thousands more. As of this writing, 20 people have lost their lives in North Carolina. Issues will only be tragically compounded as rivers throughout the area are expected to crest later this week.
The storm dumped up to 20 inches of rain in some areas of North Carolina already soaked from heavy September precipitation, prompting concern that the state could see its worst flooding since Hurricane Floyd in September of 1999. That storm caused record floods in North Carolina and was blamed for 35 deaths, 7,000 destroyed homes and more than $3 billion in damages in the state. Floyd was supposed to have brought "the hundred-year flood."
We are getting updates throughout the week from our team, board members and fundholders. We are uniquely positioned to provide on-the-ground information about what is happening in communities throughout North Carolina. Our statewide affiliate network directly serves most of North Carolina's 100 counties, and our boards of advisors and many on our team can not only report what they learn from their local media, but in many cases, can also provide first-hand accounts. They are living it.
What we are hearing does not surprise me. Our folks are resilient, optimistic and generous, even in the face of tragedy. North Carolina is a hardy state − one that has weathered all sorts of storms. We have worked around hurricanes and ice storms before, but the extent to which we are witnessing catastrophes related to flooding this time is unprecedented.
Ironically we had chosen Friday Oct. 7, as the day to move our headquarters offices in Raleigh. Turns out it was a great weekend to test for leaks and our own emergency response system. We are currently working out of unpacked boxes and with limited technology.
But first things first. We have re-activated our NCCF Disaster Relief Fund and many on staff are busy helping to raise awareness and funds. (Information can be found here about the details of our fund and how to give.)
Our team is strong, with all ready to pitch in. They represent our state. And I witness in them every day the value of a community foundation as a resource, not just in good times, but especially in bad as we all work together to help put our state back together.