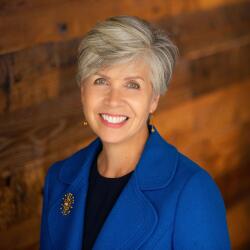 My intention today was to write about gratitude. I know in my heart, from both experience and observation, that no matter the season, no matter the year, we all have challenges that can be overwhelming. It occurs to me that even in the midst of fear, illnesses, deaths, sickness and pain -- we can have gratitude. I re-read a blog I wrote in 2014, and it fits to a tee what I am feeling now. Think of this not as a Thanksgiving leftover from last year, but a healthy helping of an attitude that keeps me and so many of you going, even during life's challenges.
Gratitude. I sure do have it this season. For lots of things big and small. For good luck, people, places and things.
It's mostly people for whom I am thankful, like the amazingly talented staff members who work hard every day to make it easy and fun for you to be philanthropists; and our wise and thoughtful board of directors who is dedicated, generous and very engaged. I am grateful for each and every one and amazed that I am lucky enough to do such good work alongside such good people.
I have the opportunity to sign many of the thank-you letters to our donors, which is a great and important task and another major category of people for whom I am thankful. Right now our cup runneth over with incredibly generous gifts to the Chairman's Challenge. While it might sound corny, I am touched by each gift to this special campaign. These are old friends and new who understand the importance of the affiliates' community grantmaking funds and the impact these permanent endowments can have in their communities. (And no worries if you are reading this on or before Nov. 30: you can still participate! Give online or read about how to mail a gift here.) All of these contributions will be proportionately matched and put to work in communities we serve across our state.
Of course no list of people would be complete without expressing my profound thankfulness for my loving and incredibly patient spouse, my smart and talented daughter and for the amazing recovery and health of my dads and my sister.
I also am grateful to live in an incredibly beautiful state and have a roof currently without a leak over my head. I am grateful for rental cars, for mobile phones, strong shoulders and sturdy legs.
My gratitude is simply a tidal wave washing over me.
Happy Thanksgiving from all of us here at NCCF -- we are all a very grateful.