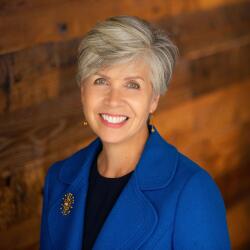 We use the phrase "State of Generosity" a lot around here to describe the great work that happens throughout North Carolina. In the last couple of weeks, I dare say that we have been happily overwhelmed by your "State of Generosity!"
One source of your gifts is through NCCF's Chairman's Challenge campaign, which reached a new level of giving this year. We've not only received donations from across the state, but also throughout the eastern United States – and beyond! These contributions will support local grantmaking efforts through NCCF affiliates, helping to strengthen our North Carolina counties.
I'm also amazed by your continued support of disaster relief. More than a year later, we are still receiving donations to the North Carolina Community Foundation Disaster Relief Fund. We all know that recovery is far from over.
Many of you have made gifts to support the work of NCCF through our endowment, which truly makes a difference. A record number of you are requesting that grants be distributed from your funds to support important nonprofit programs across the state.
As I write this, I am touched by those of you who have entrusted us to establish endowed funds. You care about the needs of your community and those around you. Your work to make a difference fills our hearts.
We are truly grateful for the opportunity to serve you, work alongside you and support you in your efforts. It is an honor to partner with each of you -- our donors, fundholders and colleagues in the nonprofit sector. You inspire us.
As my heart is filled with gratitude, I would be remiss if I did not mention the amazing people who help NCCF serve the needs of our state: our passionate team, who works diligently throughout the year; our dedicated board and affiliate advisory boards across the state, who work together to inspire and grow philanthropy every single day.
Without you, we could not achieve our "State of Generosity."
Thank you all for a wonderful year. We can't wait to see what 2018 brings.