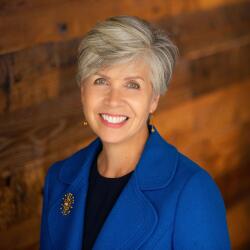 It is always great fun and a tremendous way to build excitement to get all the NCCF staff together. We always have good food and usually some prizes, lots of laughter and cheering and usually even a few tears. Last Friday's meeting was no exception. We had a surprise visit from our former CFO John Berngartt, who had only the day before completed his hike of the Appalachian Trail -- a walk of 2,189.20 miles completed in six months, with six pairs of hiking shoes.
We are thrilled to see our friend and former colleague, who has inspired and challenged us and who we've been cheering on from the sidelines for the last six months. He shared some highlights of his hike, and I think we were all a bit stunned to hear there were not any lows to report of his journey -- all because of his attitude. He decided he was going to be positive, and positive was exactly what he accomplished step by step.
Someone who follows their dream -- their passion -- is always a hero to me. We know that this often involves making great personal and sometimes professional sacrifices. And it takes stepping through fear and other obstacles. What our heroes might not recognize is how much they mean to all of us around them. We admire and look up to them -- and soak up the lessons and experiences like sponges.
What an incredible role model John B has been for others. We have followed his journey closely, through honest postings on his 3-D trail blog (and if you are like me, John's blog will make you want to follow others who are making their journeys; their stories are addictive!) to sharing pictures, emails or quick phone calls. He has made a difference to each of us -- showing that you can follow your dreams, encouraging us to look for the amazing strength and resilience we each have inside of us and also illustrating the amazing power of human contact and community.
The need to have community is so strong. We usually have several: the community we live in, our family and friends -- our work community, our faith community, a community of others who are very much like us, or very different from us. Whether we are gathering with neighbors, other parents from our child's school -- or we are hiking the Appalachian Trail -- we all have a real need to meet, develop and become part of a community – or several.
The pull for me to connect with others is powerful. John's journey has spotlighted the AT community made up of hopeful hikers, those who have completed part or all of it or those who honor it with support, love and encouragement. The supporters are the "trail angels," who take hikers into their homes, let them shower and sleep and feed them all along their journey. What a cool community. What an illustration of trust and support for our fellow travelers. John reminds us that people are good.
Friday we welcomed our newest employee -- Dawn Neighbors, who will be working in our Sandhills region with our local community foundations, fundholders and grantees. And we had to begin the farewell process with John Francis, who has served us so well in our Northwest region over the past three years.
For good or for bad, our staff is family – a real community that cares about each other, sheds real tears for each other and is so proud of each accomplishment. That is why we love working at the COMMUNITY foundation.