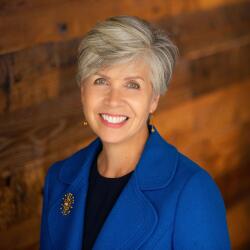 We live in a community of generosity. But how do we ensure we pass on that commitment to the next generation? How do we teach our own children and grandchildren about the importance of giving back to our community? How do we instill in them those important values that ensure our community stays strong?
I have vivid memories from my own childhood of my parents and grandparents showing me through their actions how important supporting my community is. Their simple acts of generosity had an enormous effect on me. I learned from an early age that giving back is not only important, but expected of me, not for the recognition, but because it is the right thing to do.
As you're considering how to demonstrate generosity to the next generation, here are some methods families can use:
Be an example. Actions speak louder than words, especially with our children who are often watching our every move. Model the kind of generosity you hope to see the next generation continue. It's the little moments that have the greatest affect.
Talk about giving with your family. Sometimes we neglect discussing how we are giving back. Share why and how you give with your family. A conversation about why you give can be a springboard to a giving worldview that lasts a lifetime.
Volunteer with the next generation. Experiences can transform the lives of our children. Volunteering together at a nonprofit or lending a hand to a neighbor, coworker or friend can demonstrate your commitment to community.
Donate items with your family. In the age of decluttering, don't forget your kids. They can donate gently used clothing or toys along with you. Plant the seeds of giving early.
Celebrate occasions with meaningful gifts. Special occasions are always wonderful opportunities to include a gift to a cause near to your heart. Donating in someone's honor to a nonprofit illustrates how important they are to you.
Discuss issues facing the community. Engage your family in conversation about issues and challenges in our community. Listen to what they think and solicit their ideas. Help them identify ways we all can be involved in solutions by showing them how much their voices matter.
Use giving envelopes with your children. When my daughter was young, she divided her allowance into three envelopes: savings, spending and giving back. When she built up money in her charitable envelop she selected a local organization to support.
Raise money for causes they care about. When an issue strikes a chord with your family, don't shy away from raising money. These can be great opportunities to channel children's passion and help them see how their efforts can make a difference.
Give back through your faith community. Many of our faith communities actively engage in service and giving in spiritual ways that can help every member of your family feel deeply connected to their community.
Express gratitude. When someone else support or mentors you, express your gratitude or talk about this experience with your family. We all benefit from the kindness of others and expressing appreciation is an important part of passing this on.
There's no perfect way to pass on the importance of giving back, but small efforts can have a tremendous impact. Generosity seeds planted today can blossom into generations of philanthropy for your family tomorrow.