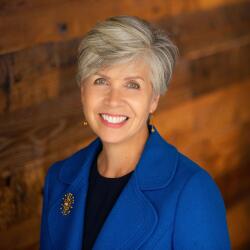 Planning ahead is always important.
Over the past two years, our leadership has devoted a significant amount of time and energy to planning.
Personally, I love thinking ahead and sometimes find it harder to focus on the here and now. (Enter the mindfulness class I just took!)
We knew that 2019 was going to have a lot of change and a lot of successions. We knew several staff members who had been with us for many years were retiring and expected four of our past board chairs to see their terms on our board of directors end.
It was a year that combined weird coincidence, planning and simple math to create a lot of change.
What I do know is that the changes were not unexpected. We planned, discussed and were as prepared as we could be.
That doesn't make change any easier. Saying goodbye to longtime staff even for a good reason and watching some of our longest serving board leaders rotate off is a bittersweet experience.
Much of the time at our December board meeting was spent listening to each of our retiring board members share their reflections on our history and hopes for the future. The wisdom they shared was captivating. It was an honor to capture the passion, commitment and history in each story.
This is really the essence of our work. We learn, understand and honor our history, while bringing new energy, ideas and approaches to the table.
This is exactly how succession works on a board and exactly how it can happen with our fundholders.
A decade ago, we updated our state board terms to institute a cap of three terms of no more than three years each. At the time, nine years seemed so far away, with the knowledge that so much can change in that time.
When faced with these changes, our board discussed extending board terms, and several of our leaders were in favor, believing that these leaders were long-term wells of history, experience and credibility. But after a robust discussion, it was agreed that it was in the best interests of the organization to continue to grow and expand and bring new leaders to the table.
Our very mission relies on a continuous infusion of new ideas and leaders balanced with our history, relationships and lessons of the past.
Succession planning is critical to the success of any organization. Succession planning for our staff and board is something we take seriously.
Strong organizations succeed because of their people. Let's honor them and the work they do by planning for the future to ensure a strong present.