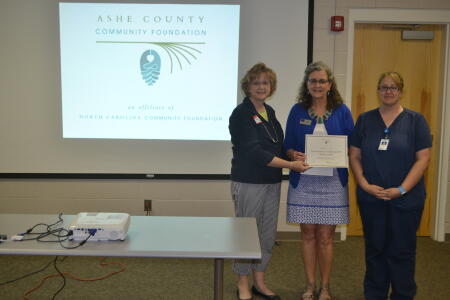 The board of advisors of the Ashe County Community Foundation announced grant awards from its community grantmaking fund at a reception on June 2 at the Ashe Public Library, according to Linda Slade, board president.
Karen Powell, grants chair, recognized this year's nonprofit recipients:
Appalachian State University to serve special needs elderly and children who require one-on-one assistance.
Ashe Arts Council to address bullying issues through seven performances of the Pirate of Bully Bay and Maximus Mars by Bright Star Children's Theatre.
Ashe Services to purchase a quad stroller that allows infants to more easily access facilities and the outdoor learning environment.
Hospitality House to help meet the transportation cost for homeless individuals and families traveling between Ashe County and Boone.
Second Harvest Food Bank of Northwestern North Carolina to purchase healthy meal boxes for food insecure patients discharged from Ashe Memorial Hospital.
Riverview Community Center for roof repairs for the building served by Ashe Outreach.
Slade thanked the community for its support of the Ashe County Community Foundation. "These grants are important to our community and our quality of life," she said. "Critical programs would not be possible without the generosity of many individuals and organizations that have supported Ashe County's community fund and endowed funds to support our community."
Special thanks was given Mannon Eldreth, who helped established the Daniel Lee "Dan" Eldreth Memorial Endowment, through which the majority of the grants were awarded.
John Duvall, representing the Beaver Creek High School Memorial Scholarship Fund, spoke about the establishment of the scholarship and recognized a recent recipient, Alex Kissinger.