 2021 Impact Report
Strengthening Our
Connections
Our connections have been challenged in new ways.
We learned what we needed to do to stay connected during tough times in 2020. But after the initial shock of the pandemic diminished, 2021 provided new challenges as the need for community support intensified across our state.
We still were not able to be together in person, but we stayed connected with you in ways we never could have imagined pre-pandemic. We grew our support in the directions you needed us to, whether it was ensuring our fundholders' philanthropic efforts came to fruition, enabling our affiliate foundations to support their local communities through grantmaking, or providing needed support to our nonprofit partners serving marginalized communities during the pandemic.
During 2021, we strengthened our support for our fundholders by connecting them with information about needs in their communities. We developed virtual orientations and learning sessions for our affiliate board members. And we distributed $4.25 million in grants from the North Carolina Healing Communities Fund to provide critical resources for nonprofits impacted by COVID-related revenue loss and increased demand for services.
North Carolinians continued their history of generosity during tough times. In 2021, NCCF distributed $26.6 million in charitable dollars through grants and scholarships, fulfilling our fundholders' philanthropic intentions. Forty-five new funds were opened in 2021, supporting a wide variety of local and statewide philanthropic goals.
Through it all, we remained focused on serving as good stewards of our fundholders' investments. We continue to grow and maintain a solid financial footing. We are proud to report that, as of 2021's year end we held more than $460 million in assets and have awarded more than $239 million in grants and scholarships since our founding in 1988.
2021 also came with loss for many, including us. We were saddened by the deaths of two long-time board members: Kel Landis and Rodney (Rod) Earl Martin. Kel, who had served on our board since 2012, passed away in January, and Rod died just as his term as board chair was winding down in March. Both of these great leaders believed in the power of connection and philanthropy to change the world.
In that spirit, we grew our connections with our community leaders throughout the state, building relationships and providing new opportunities to grow and learn from each other in support of our communities, even as we stayed virtual.
Steve Wangerin began his term as Chairman of the Board of Directors, and Cherry Ballard, NCCF's first employee and longest-serving staff member at 33 years, retired. We also added three new members to our statewide board who bring a wealth of expertise and leadership experience to their roles.
We are so pleased to provide a snapshot of our impact in North Carolina to help people make lasting and meaningful contributions to their communities. As the pandemic appears to be subsiding, we look forward to what's next and reconnecting with you in person soon.
Best,
Steve Wangerin, Chairman of the Board
Jennifer Tolle Whiteside, President & CEO
2021 By the Numbers
1,219 Total charitable funds
$25.5M Grants made to community organizations
$56.5M Total contributions
4,198 Donors who made gifts
North Carolina Healing Communities Fund
In response to the COVID-19 pandemic, NCCF launched the North Carolina Healing Communities Fund to help provide critical resources for nonprofits impacted by revenue loss and increased demand for services.
The fund supports long-term, unmet needs for organizations embedded in and serving marginalized communities that have been disproportionately affected by the pandemic. This includes communities of color, of lower wealth, communities in mostly rural areas, and communities where English may not be the primary language.
Directed by an advisory committee, NCCF distributed a total of 115 grants in 2021, ranging from $25,000 to $55,000. The committee also referred some grantees to receive capacity building services to support the long-term sustainability and leadership development of these nonprofits, which so many in our communities rely on for healthy living and well-being.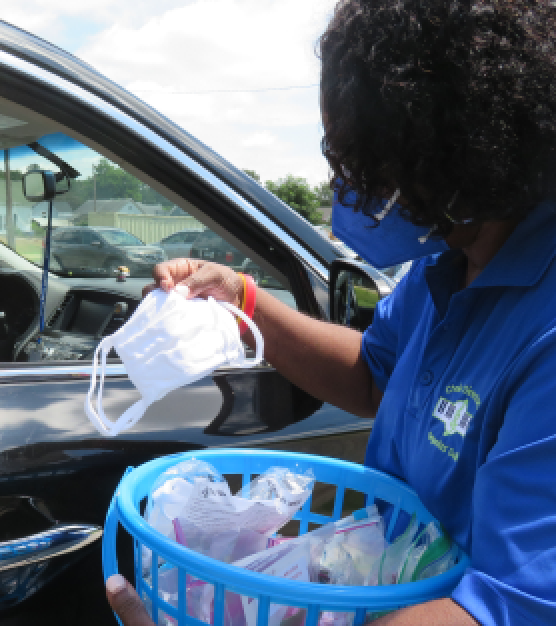 BY THE NUMBERS
$36,957 Average grant amount
16 Grantees that received capacity building services
Of the organizations that received grants, all reported COVID-19 impacts of revenue loss and/or increased demand for services, and all primarily serve marginalized communities. In addition, 88% have annual operating budgets below $1 million.
"NCCF had the foresight to understand the importance of infrastructure and capacity building to ensure longevity and system change. It is typical for those with privilege to share resources with marginalized communities to do good work. It is impressive when those resources are shared in a way that closes a gap to help them sustain their own work."

J Hackett, Executive Director of Jordan Peer Recovery in Buncombe County
The fund also helped more evenly distribute COVID-19 relief philanthropic funding in North Carolina. A map developed by NCCF in conjunction with the Gillings School of Public Health at UNC-Chapel Hill showed an increase in philanthropic dollars in unserved or underserved areas of the state after the grants were made.
The NC Healing Communities Fund represents the collective contributions of corporations and foundations, including the State Employees' Credit Union Foundation, Duke Endowment, Kate B. Reynolds Charitable Trust, First Citizens Bank, Anonymous Trust, Jonas Foundation, Barnhill Family Foundation, Novartis Foundation, Fidelity Bank and the North Carolina Community Foundation.
"Without these funds many within our community would have suffered immeasurably. While we still have a long road ahead of us, the healing process has begun thanks to this amazing gift from the North Carolina Community Foundation. We are extremely grateful to have been entrusted with these funds to care for our fellow Carolinians."

Bill Blake, Executive Director of the Albemarle Area United Way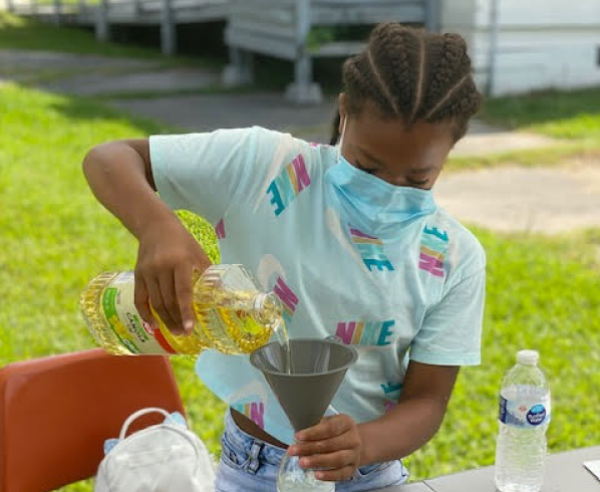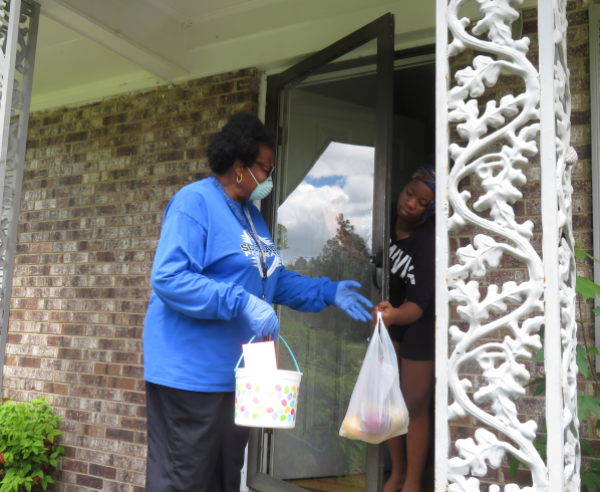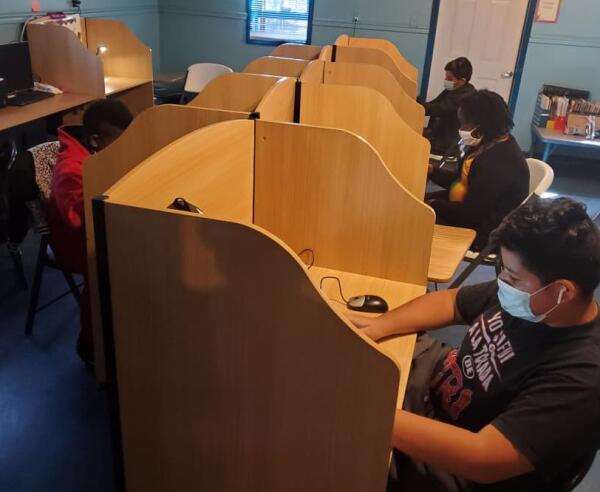 Supporting Community Needs
Our generous fundholders continued an upward trend in grantmaking. In 2021, together with our fundholders and affiliate foundations, NCCF distributed 2,500 grants totaling $25.5 million to a wide variety of programs, organizations and initiatives.
Many grants contribute to the general operating support of organizations. However, they also provided direct support to big and small initiatives alike. Just a small example of projects that grants supported:
Bridging the behavioral health gap at East Carolina State University
Purchasing books for libraries in Johnston County
Conserving and protecting the Eno River in Durham County
Purchasing a new cooler/freezer for a food pantry in the Catawba Valley
Buying white boards for the Burke County Literacy Council
Buying supplies for a new forensics class at a Montgomery County high school
Making over rooms for caregivers and their children with special needs in New Hanover County
Supporting a farmworker health program in Macon County
Granting wishes for children with critical medical conditions in Carteret County
Supporting Eastern North Carolina, Women and Youth
In its fourth year, the Louise Oriole Burevitch Endowment provided $500,000 to nonprofits serving education, health and human services in eastern North Carolina through a competitive grant program. The endowment also provided additional funding for other organizations that aligned with her philanthropic vision of supporting the welfare of people and animals.
"Mrs. B," as Burevitch was known to her friends, was a Wilmington native whose generosity was well known in southeastern North Carolina and beyond. The NCCF endowment has been granting to Burevitch's named nonprofits since 2015 and applications have been accepted for grants since 2018.
"It would please Mrs. Burevitch to no end to see that her generosity is unfolding just as she hoped and dreamed. Her kind spirit of giving is continuing to touch lives across the generations and to make a difference to the causes that touched her heart."

Beth Boney Jenkins, NCCF development officer for eastern nc
Growth in Women's Giving
In 2021, the Women's Fund of North Carolina, a program of NCCF that supports nonprofits and programs serving women and girls across the state, focused their grantmaking on programs that were women-led or supporting women's leadership. The fund experienced substantial growth in applications. Over $17,500 in grants were handed out, but the impact of the Women's Fund did not stop there.
Because the number of applications received tripled, the Burevitch endowment matched the Women's Fund, making an additional $17,500 in grants.
"During a tough time for our state, this fund made an impact by supporting programs that advance women and their leadership," said Jennifer Tolle Whiteside, NCCF President & CEO. "The needs were so great. It was clear there was more to do and the Burevitch endowment helped to fill that need."
2021 also saw NCCF's inaugural year of grantmaking for the Women for Women of Pitt County Endowment. Founded in 2005, the endowment supports nonprofits that create hope, change and a brighter future for women and girls locally and has a deep history of grantmaking and community impact in Pitt County.
In 2020 Women for Women of Pitt County met its goal of being able to provide grants in perpetuity without additional fundraising. However, this highlighted the need for streamlining processes and additional oversight. Now endowed with NCCF, the endowment in 2021 granted $75,000 to food and meals programs, leadership programs and counseling and emergency victim assistance, bringing the endowment's total to $825,000 in local grants.
"Our Board of Directors felt very confident that NCCF was the right philanthropic partner. We trust the NCCF team to critically assess the needs of our grant applicants and competently manage our endowment to continue to support programs for the women and girls of our community."

Allyson Daugherty, former board chair of Women for Women of Pitt County
The Need for Accurate Reporting in Our Communities
With the addition of new funding partners, the North Carolina Local News Lab Fund at NCCF awarded its largest round of grant funding to date.
This pooled fund supports racial and class equity by working to ensure North Carolina's marginalized communities can find, trust and use the news and information they need.
The 2021 round of grants reinforced the capacity of trusted organizations to reach and inform communities about the pandemic, vaccines and civic life, focusing on those serving and led by Black, Hispanic/Latino/Latinx, rural, poor and disconnected people.
"Our growth in grant funding allowed us to better support organizations that are trusted voices filling in information and reporting gaps in many of our marginalized communities."

Lizzy Hazeltine, Fund Director for the NC Local News Lab Fund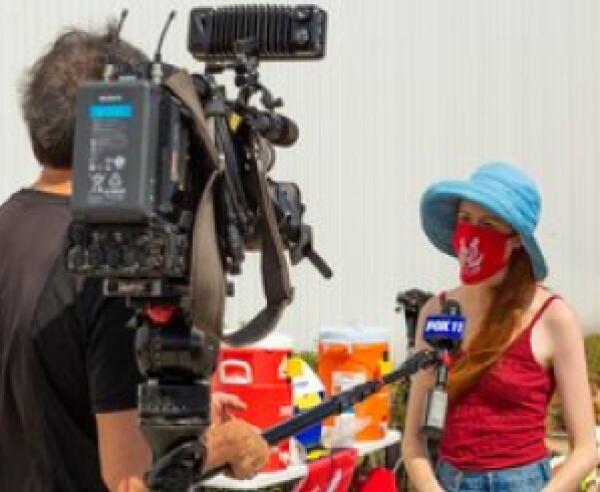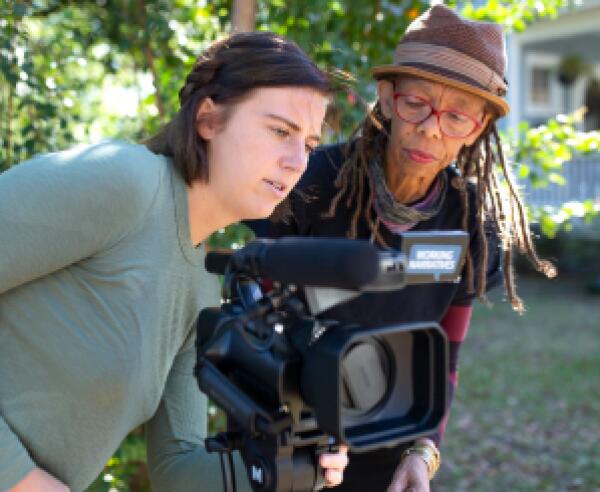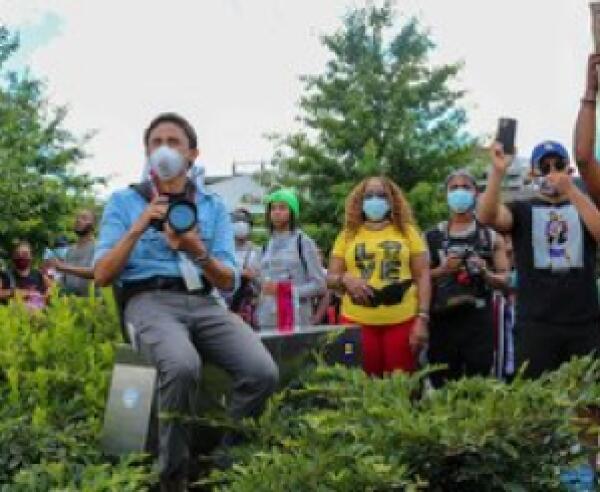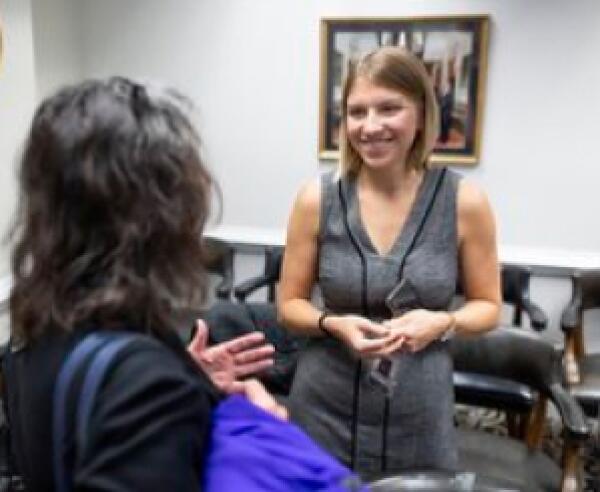 Scholarship Impacts
NCCF issued $1.14 million in scholarships to North Carolina students in 2021, on par with the previous year.
The impact of scholarships can be felt throughout the state. Scholarship recipients hailed from 126 North Carolina cities and towns. More than 90% of the scholarship dollars were for students attending NC colleges and universities.
Much of the scholarship dollars distributed stayed in North Carolina, 2021 NCCF scholars attended a total of 40 North Carolina public and private colleges and universities, including 16 community colleges. That equated to more than $985,000 in scholarship funds going to North Carolina institutions of higher education.
By the Numbers
325 Number of scholarships
289 Number of students receiving scholarships
83 First-generation college students
---
---
Connecting to Community
Our affiliate boards helped to keep us connected to the communities we serve during a time when it was easy to feel disconnected.
The Power of Local
Our affiliate foundations awarded over $1.1 million in grants in 2021, providing direct local resource allocation and community assistance. NCCF's affiliate foundations collectively garner over 1,200 grant applications and our affiliate foundations made nearly 500 grants.
NCCF for the first time provided our donor advised fundholders a summary of the grant applications submitted to the affiliate foundation in their county. Donors were able to review the grant applications made to their local county affiliate to determine if there is a community need that they would like to support.
With the strength of its affiliate network, NCCF is uniquely positioned to provide fundholders with an on-the-ground look at community needs from local nonprofits, said Meredith Bell, NCCF donor engagement officer for the Central region.
Sam Willis, whose family has an endowment with NCCF, used the information provided by NCCF to make grants at the end of 2021 to Children's Cancer Partners of the Carolinas, Montgomery Central High School, Montgomery County 4-H Program, Mount Gilead Food Pantry, Town of Troy and Trinity Music Academy.
"Having this resource helped me to understand where I could fill in some gaps in funding to support the nonprofits in Montgomery County. Without this information from NCCF, I would have never known this need existed."

Sam Willis, NCCF fundholder
Staying Connected
We welcomed 100 new board members through a series of virtual orientation sessions, grounding all of us in shared goals and creating common and clear expectations so that we can ensure all our communities benefit from local philanthropy.
As part of making those connections, we continued our Virtually Together series, bringing together affiliate board members from all over North Carolina to discuss topics critical to affiliate foundation success.
We also launched our Presidents Exchange forum, providing an opportunity for idea-sharing and network development for our affiliate leaders across the state.
Racial Equity
At NCCF we believe everyone should have a community where they can learn, grow and thrive.
We also know that historically, opportunity in America has depended on who you are and where you come from. Policies, practices and beliefs rooted in this history still affect people today.
Ensuring our boards are inclusive and reflect our communities is part of our Blueprint for Success for our statewide network of local affiliate foundations. As leaders in philanthropy and in our communities, we also believe there are critical steps we need to take together to address equity and inclusion. We have a role in opening dialogue, building connections, and creating opportunity for insights and changes.
We also believe that in order to partner effectively with our communities in making lasting and effective changes, we first must start from within. In 2021, we engaged the nationally recognized Racial Equity Institute (REI) to provide an educational session for our staff, statewide board of directors and our affiliate leaders. REI uses stories and data to present a perspective that racism is fundamentally structural in nature.
Representatives from over 50% of NCCF affiliates participated in the fall sessions. Affiliate board members who participated found it was relevant to their work serving on their local affiliate foundation boards.
"Prior to the webinar I thought I was aware of most of the issues involving racial inequality. There was so much I learned."

Betsy Whittington, board member of the Johnston County Community Foundation
Growth in Giving Creates Lasting Legacies
"Legacy is about so much more than the people we leave behind. It's also about shining a light onto those who came before us, those unsung heroes who bravely pushed open the doors that have allowed us the space to move forward. With the annual nature of this honor, these two incredible women will never be forgotten."

Jamaal D. Pittman, nephew of Annie and Sallie Ann wheeler
"Mr. Joyner finds a way to celebrate his kids and others all the time. To have an endowment to celebrate him and back him up is powerful."

Paul Holder, co-founder of the Hype Leadership Institute Endowment
"It's critical for nonprofits to have sustainability, reserves and financial strength, and we want to model the importance of having a good financial portfolio. When I began in nonprofits, having an agency endowment was looked upon as frivolous. Now it is seen as an opportunity to build sustainability."

Jeanne Tedrow, president and CEO of the Center for nonprofits