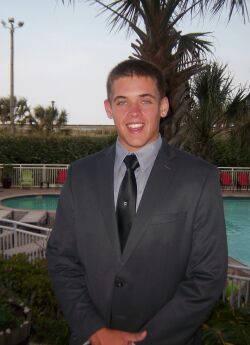 Born in Livingston, NJ on Dec. 26, 1995, Alexander Banoczi is the only child of Alyeece and Paul Banoczi. He grew up in South Amboy, NJ and moved to Wilmington, NC in 2009. After arriving in Wilmington, he attended Eugene Ashley High School.
At Eugene Ashley, Alexander was an integral part of many sports teams and school organizations, including the football and track teams. He served as captain of the track team and received MVP honors in field events his junior year. He was the vice president of both the National Honor Society and Beta Club and was a member of the Exceptional Buddies Club, the Eugene Ashley Math Team and part of the local Habitat for Humanity chapter. He also was a chief video author for the online newspaper The Scholar's Herald. He graduated in the top three percent of his class.
Alexander is the recipient of the Wilmington Civitan Club Scholarship Award for 2014. He will be attending the University of North Carolina at Chapel Hill in the fall to study business and economics.