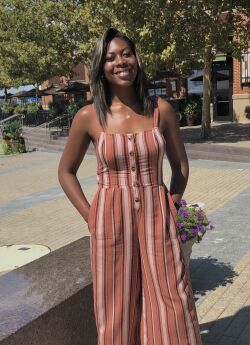 Tynashia Whitaker is a proud graduate of Tarboro High School and will be attending the University of North Carolina at Greensboro in the fall.
Whitaker intends to study Speech Pathology and Audiology, after having been inspired and motivated by her late grandmother's story. "I can remember her being in the rehabilitation center after long-term sickness and she was not doing well," she said. "This influenced me to be apart of the therapy field so I can help people like my grandmother who just need an extra push."
Studying at UNCG is a new, exciting chapter for Whitaker, who looks forward to joining organizations that help the campus community. She ultimately aims to open her own rehabilitation center with a focus on helping veterans such as her grandmother.
Whitaker is a recipient of the McBryde Scholarship. "I will continue to work hard and show that I deserve to be here and the McBryde Scholarship will help guide my way helping me to stay focused on the important factor: my education," she said.