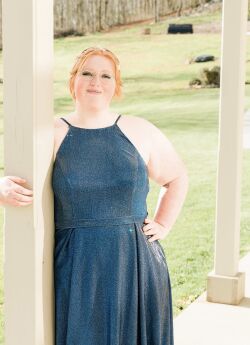 Lennon O'Hagan is a graduate of Avery County High School and will be attending the University of North Carolina at Asheville in the fall.
O'Hagan intends to enroll in the Women, Gender, and Sexuality studies program and pursue a doctoral degree post-graduation to work with queer teenagers in the Appalachian Region. O'Hagan wants to help make Appalachia a place where queer people feel welcome and celebrated.
Growing up as a nonbinary, queer person in rural North Carolina, O'Hagan struggled with finding a sense of belonging in their community. Motivated by the moments when they felt there was not a place for them, O'Hagan plans on creating spaces in their community for queer youth to be recognized and celebrated.
Lennon O' Hagan is a recipient of the Gary "GJ" Johnston Leadership Scholarship. "I love my home and my identity as a queer person, and I should not have to choose between the two. Queer youth like myself are an integral part of Appalachia's culture and I want the region to recognize and celebrate that."