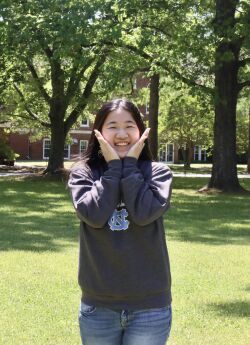 Yu Qi Lin is a graduate of Edgecombe Early College High School and will be attending the University of North Carolina at Chapel Hill in the fall.
Growing up, her father highlighted the importance of learning as much as possible to best grow as a person. As a participant of the Accelerated Research Program and the Honors Carolina Program, Lin will be able to expand her knowledge and explore different interests. Lin intends to study computer science and hopes to double major in a health or technology field. She also wishes to minor in public health policy and Mandarin.
She is particularly interested in artificial intelligence and its interconnection with technology and health care. She plans to be involved in many leadership opportunities, volunteer service and internships.
Yu Qi Lin is a recipient of three scholarships housed at NCCF: the Elizabeth Braswell Sheffield Scholarship, the Mary Ferebee Howard Scholarship Fund and the McBryde Scholarship Endowment.
"It is important to show gratitude by maximizing my college academic experience and sharing the skills and knowledge that I have learned with others. Learning about the past recipients of the scholarship … will provide insight into how to best utilize this opportunity to achieve my goals. My ultimate goal is to establish a foundation that would provide scholarships to deserving students."