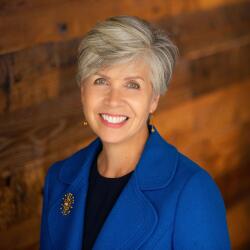 We just returned from a wonderful vacation last night, and I am intent on holding on to this lovely vacation feeling and fresh perspective.
I think you know what I mean. That delightful feeling of truly and thoroughly enjoying the time away from everyday life and gaining a new perspective.
I am so grateful for the time with my family, the time outside, the solitude, the time to explore and see and watch.
I'm grateful to an awesome dog sitter that loved on Bumble and Honey while we were away.
I am truly grateful for the time away to remember that things do move forward even without me here.
I could not be more grateful to our leadership team and colleagues for not missing a beat in my absence.
Mostly, I'm grateful for the time.
It was a chance to reflect without a to-do list, obligations, phone calls and the busyness of an overoptimistic scheduler (that would be me).
I took the time to simply walk along a beautiful seaside trail. The trail was lined with worn wooden benches that were engraved with the names of family members who lived and loved and were remembered by others.
Their legacy continues.
The sight left me reflecting on how love of and pride in place seems universal.
The importance of family and legacy was reinforced, no matter what state I was in while we traveled.
I thoroughly enjoyed each moment of walking, watching, slowing down, listening and simply sitting.
Time can go so quickly when you are busy.
I hope to slow down and enjoy the ride a bit more. I will be working on how to retain that feeling throughout the coming weeks.
I'm wishing you some long moments of reflection and some sunshine on your face this summer.