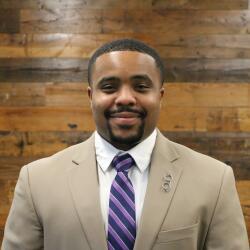 During my first 90 days with NCCF, I have been able to see some of the most beautiful sights in my over 2,700 miles of driving to meet with community leaders.
For as long as I can remember, I have always preferred those long scenic drives through smaller communities over the convenience of bland major interstates.
Many of the communities I have been fortunate enough to visit thus far on the job remind me of my upbringing in Lexington.
Growing up in Lexington, (The Barbeque Capital of The State) there were three things that I grew to love more than anything else in the world: cruising down main street and looking out at all of the small businesses, celebrating the annual barbeque festival on the square and observing the many different artists "pigs in the city" placed around town as a celebration of the city's rich history.
That small-town pride and sense of community is the bloodline that fuels our state, and I have felt that in every community I have entered, spanning from Murphy to West Jefferson.
A phrase I often hear used in my frequent travels is, "Western NC does not stop in Asheville and pick back up in Cherokee as most believe." They are right.
While Asheville does have many great offerings and activities, there are just as many unique experiences and opportunities in the Western part of the state.
Since returning to North Carolina, I have always had roles that required me to serve the entire state. Through those roles, I was able to connect with many communities that were doing amazing work with minimal resources and learned to appreciate the gratitude that came with providing resources to help increase their overall service capacity.
While serving the entire state sounds like a fantastic opportunity to see what all North Carolina has to offer, it also comes with its geographical and time limitations that challenge developing authentic relationships with the local communities we serve.
North Carolina is facing a time where traditional funding streams have shifted due to various external pressures. Still, the needs of our communities have grown at an exponential rate.
The needs of our great state in 2020 and beyond will require bold action, innovative funding strategies, and above all, community-driven solutions.
When considering a role that requires engaging new local communities, there is also a feeling of discomfort that underlies the decision-making process.
In recent times, the word community, in its purest form, has begun to lose its power due to over-usage by grantmakers and evaluation reporting documents.
Still, any person that has spent time doing community-driven work or community organizing knows the real power behind the term when used appropriately.
For many, community has become a checkbox on a grant report used to classify the number of people served, demographic data of impacted parties or intended audiences for the proposed programming in their application but for the experts of their lived experiences, it is the unique qualities and offerings that result in happily serving others that really capture the depth of what the word means.
Recognizing this need for change is a significant factor that prompted the change in structure for NCCF.
This new structure is designed to allow for more intentional community relationship development and to offer guidance through navigating both grants and scholarship processes.
By being better informed of what is happening at the hyperlocal level, our role as program officers allows us to better champion community-led initiatives when engaging our board members.
Residents are aware of their needs and have solutions readily available to meet these demands with the help of a partner that is willing to come alongside for the journey.
My fellow program officers and I look forward to working with communities to both partners on addressing critical community needs and elevating their voices to the masses to rightfully tell the stories of how seemingly small investments can support large scale impacts across the state.