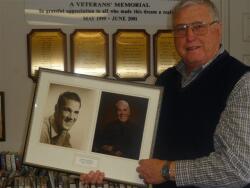 It's fitting that the Vass Area Library in Moore County is located in the small town's old movie house, as its chief benefactor Mark Dawson made his mark in show business.
Dawson started out as a singer in Philadelphia in the mid-1930s with his own radio show ("Trisco Time with Mark Dawson") and vocal performances with the city's famed orchestra. He was about 20 years old when his voice coach urged him to seek a stage career in New York.
On his very first trip Dawson auditioned for a Broadway show and won the part. Since he had no agent, the producers sent him to Cubby Broccoli, who represented him briefly and later teamed him with Liberace for a night club tour. (Broccoli ultimately became a film producer, notably known for the 007 movies.) 
While never a headliner, Dawson was cast as a "featured performer" in a series of Broadway musicals, including "By Jupiter," "Sweethearts," "High Button Shoes," "Ankles Aweigh" and several others.
But World War II interrupted Dawson's stage career. He served three years with the Marines and while enlisted, performed with a band led by Bob Crosby, Bing's youngest brother. 
Postwar found Dawson headed to Hollywood and parts in several movies, most notably "The Detective," with Frank Sinatra and "The Hot Rock," with Robert Redford. Both of these films turn up occasionally on the late show and continue to pay residuals.
Early television also attracted Dawson, who had a recurring role on the popular soap, "One Life to Live." He also performed in "Sgt. Bilko," "Car 54 Where Are You?" and the "Colgate Comedy Hour," among others. 
Dawson was married three times. His last wife, Carol, was a June Taylor Dancer on the Jackie Gleason Show. He never had any children. And due to his parents' untimely death while a young teen, he grew up in a series of foster homes. He had no close relatives.
But Dawson did have a few close friends. Among them were Marilyn and Peter Madsen, whom he and Carol met in the Woodlake community just outside Vass and near Pinehurst. The Dawsons had retired to the area in 1978, and the Madsens, former educators also from New York, relocated there in 1990. The men played golf at least twice a week, and the couples enjoyed socializing. 
When Dawson's wife, Carol, died in the mid-90s, his friendship with the Madsens grew. The two men frequently dined together, and Dawson spent all his holidays with the couple. Dawson rarely saw anyone except the Madsens in his later years.
Since Dawson had no family to speak of, he named Madsen executor of his will. And when Dawson died in 2007, Madsen learned that an endowment had been established to benefit the Vass Area Library and Veteran's Memorial, a cause very near and dear to Madsen's heart. 
Although not personally involved, Dawson knew the library and the small military museum, also housed in the old movie theater, were important to the community and to Madsen, who is a founding and current member of the board of the Friends of the Vass Library Foundation, A Veteran's Memorial. He had seen Madsen and others work hard over the years, holding countless book sales and golf tournaments to raise funds necessary to keep the building up and operating. While the Moore County Library System pays for books and a librarian's salary at the Vass branch, all other expenses are covered by the Foundation. So Dawson wanted to honor his friend with a special tribute to his cause.
And what a tribute it is. Madsen and the board were astounded to learn that the Mark and Carol Dawson Endowment for the library and museum totals in excess of half a million dollars! 
"In the past, we've been dependent on what we could raise just to pay for the basics," Madsen said. "Now we know the library and military museum can be funded in perpetuity."
And the tribute to Dawson and Madsen's friendship will live on as well. 
(Editor's note: Portions of this article are based on research conducted by Peter Madsen and used with permission.)