In 2021, the Columbus County Community Foundation made grants totaling $7,870. In 2022, the amount was nearly 10 times that, thanks to an anonymous donor.
The donor's generosity through the Columbus County Anonymous Fund is having a transformational effect on CCCF and the community. The fund created by the donor focuses on literacy, food insecurity, human services and the alleviation of poverty in Columbus County.
According to the NC Budget & Tax Center, the county has a poverty rate of 22%. The median household income is $38,500 which falls more than $18,000 below the state average.
The donor chose CCCF, an affiliate of the North Carolina Community Foundation, to oversee grantmaking from the fund because of CCCF's deep roots in the community and NCCF's proven track record of investing for long-term impact.
Lisa Richey was serving as chair of the CCCF board when the Anonymous Fund was established. She described the exciting impact of the fund on 2022 grantmaking, including CCCF's ability to reach new organizations and make connections between community organizations.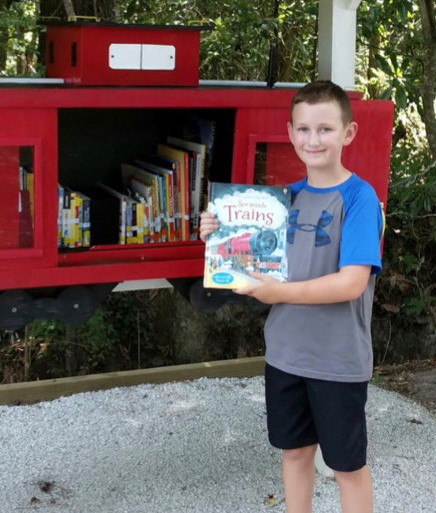 "We were absolutely able to fund things we would not have otherwise been able to," she said. "There were huge asks and huge projects, but we were also able to help with some smaller ones."
One such small project is focused on improving literacy in the community. The Lake Waccamaw Depot Museum Reading Caboose, funded thanks to a $1,000 grant from the CCCF, stirred interest in reading for kids.
Lake Waccamaw's library was already a hub in the county for several communities that do not have a library, and the Depot Museum brings people in, especially children and families, to learn about the history and ecology of the region.
CCCF's largest 2022 grant of $15,000 was to a grassroots disaster relief and resiliency organization, Community Connecting People and Resources (Community CPR). Community CPR was established in the wake of Hurricane Matthew, which had devastating impacts in Columbus County. The organization crosses community lines and brings people together who may otherwise not meet.
"[Community CPR is] monumental in our county during disasters and now are helping with ongoing life issues, for example house fires or mental health issues," said Richey.
While Community CPR is focused on helping people and making community connections, they also connect with other local organizations and nonprofits to share resources. For example, while they received food and clothing donations after Hurricane Matthew, they now refer those donations to other local food pantries or organizations. This type of efficiency and focus is key to their mission.
Hurricanes have hit Columbus County hard over the past few years. Emergency support and disaster relief dollars typically flow immediately following an event; the grant from the Anonymous Fund will provide support to help sustain organizations who provide aid in the immediate crisis and build community resiliency.
Two local food pantries will also see long-term impact from the Anonymous Fund. The Lake Waccamaw Food Ministry and Grace Church Little Food Pantry already feed hundreds of people, but both have been able to significantly expand their programs in service of the growing need for food in the community, thanks to grants of $5,000 and $10,000 respectively in 2022.


Prior to the anonymous contribution, the Lake Waccamaw Food Ministry received grants of $1,000 from CCCF. Sylvia B. Patton, chairman of the Lake Waccamaw Food Ministry, described the impact of the 2022 increase.

"2022 and 2023 have been expensive due to the rising cost and shortage of food at times during the pandemic. This grant allowed us to purchase meat and other commodities from our local grocery stores," said Patton. "I would like to thank the donor who has so generously given to the Columbus County Community Foundation, enabling them to increase our grants!"
Richey said CCCF is extremely grateful for this anonymous gift and hopes to honor the generosity of the anonymous donor for years to come by investing and stewarding it to the best of their abilities and creating connections and collaboration between community organizations.
With greater resource sharing and education about the needs across the county, CCCF hopes it can help create synergy among efforts county-wide to best support the community.
"This will be a huge focus of our board for years to come," said Richey.