"Center Players changed my life," said William Brickhouse, an aspiring performer and 16-year-old student in Elizabeth City. "That may seem cliché, but before Center Players, I didn't really have a thing I liked to do."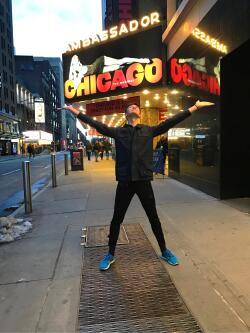 Brickhouse, like many young people in the Elizabeth City area, is involved with the Arts of the Albemarle's Center Players program. The Center Players is AOA's award-winning performing arts program offering children and young adults an after-school education in dance, drama and music in a nurturing environment.

Billy Caudle, AOA's Arts in Education director, is one of the founders of the program and has seen first-hand how it builds children through musical theater. "Not every kid plays sports," he said. "At Center Players, we're building young people up with confidence through musical theater."
Brickhouse got his start in theater at 12. "I saw one of their shows through school," he said. "I watched how much they loved what they were doing and immediately asked how I could be a part of it."
From there, he only got more involved, performing in numerous productions with the Center Players, and essentially growing up in the program. Now, he's performing in a regional production with a theater company based out of Virginia Beach.
The Center Players program itself has grown along with the participants. "We started with just nine kids," Caudle said. "We've got around 40 involved now."
Several students, like Brickhouse, have gone on to perform in larger productions, attend college to study performance and even find full-time careers in the performing arts.
Corey Bradford first got involved when he was in the sixth grade in 2010. "I fell in love with the stage," he said. "I love performing and bringing the audience joy."
Bradford was involved with Center Players until he graduated high school. Now, he's a student at the American Music and Dance Academy in New York City and has already accepted a role as Simba in Disney's "The Lion King."
"It's all come full circle for me," Bradford said, reflecting on his success in performing arts. "I started off eight years ago playing young Simba with the Center Players and now I'll be playing Simba with Disney," he said. "Without Center Players, I wouldn't have had the courage to pursue my dreams and see them start to come true."

Bradford is just one example of a young life transformed through performing arts. Center Players have gone on to success on and off the stage across the country, and many still credit the AOA program with providing their start. "Center Players gave me the confidence and motivation," Bradford said. "It changes lives."
Bradford, Brickhouse and countless other young people have been inspired and supported through the Center Players program thanks to the generosity of the community of givers standing behind the AOA. "Our programs for performing arts have been supported by multiple funds within the NCCF family," Caudle said. "We wouldn't have been able to do this without funding through the North Carolina Community Foundation."
For years, AOA's Center Players program has been supported by generous funding from the Northern Albemarle Community Foundation, Women Givers of Northeast North Carolina, David Bosomworth Performing Arts Fund, Judge Thomas Watts Memorial Endowment, Winifred Jones Wood Endowment and HCWGMW Endowment.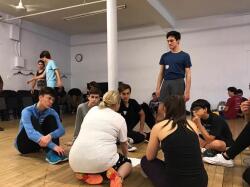 These funds, all unique in their own way, join forces in a powerful way through NCCF's local family of funds to support this important local nonprofit program. "The way in which the NCCF community has stood with Arts of the Albemarle and the Center Players speaks beautifully to the importance of our community foundation," said Natalie Jenkins Peel, NCCF regional director for the northeast. "Whether it's donor advised funds, community grantmaking through our local affiliate or our women's giving circle, this community has had an impact with the Center Players."

Phyllis Bosomworth, NACF board member and former board president, has been a staunch supporter of Arts of the Albemarle and the Center Players program for years. "It's been wonderful to watch the children grow up with the program," she said. "Young people come in small and shy and they become fantastic performers who are even now in professional theater. It's been a joy to watch them grow."
Bosomworth sees this growth through both her role as a board member of the Northern Albemarle Community Foundation and a fundholder of the David Bosomworth Performing Arts Fund. "We set up the fund specifically for scholarships for the Center Players," she said. "Many wouldn't have the opportunity to participate without it."
Grantmaking from NCCF funds has supported AOA in many ways with funding amounting to more than $50,000 total. "I realized what it really meant when I saw the funds awarded to support scholarships for a few Center Players," Bosomworth said. "We saw how grateful and successful they were and realized they probably wouldn't have been able to go as far without our community support."
That support has meant an incredible amount to many program participants. "Center Players inspires you to put your best foot forward, no matter what," Bradford said, reflecting on his years in the program. "It taught me responsibility, respect and so many disciplines I carry out into my life every day," he said. "Center Players meant 'family' to me."