(From Carolinas Credit Union Foundation news release)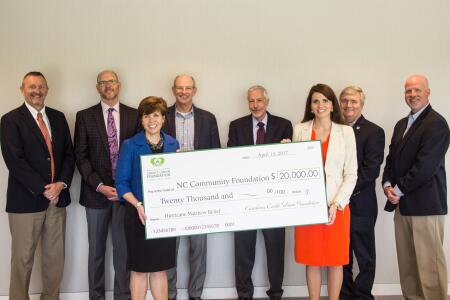 As communities in the Carolinas continue with Hurricane Matthew recovery efforts, the Carolinas Credit Union Foundation recently presented a donation of $20,000 to the Disaster Relief Fund at the North Carolina Community Foundation and $20,000 to the One SC Relief Fund, housed at the Central Carolina Community Foundation. According to Lauren Whaley, Credit Union Foundation president, this follows an already $50,000 disbursed in the form of quick impact grants directly to credit union members who lost their homes and personal possessions.
"The credit union industry, both in the Carolinas and nationwide, answered the request for donations to assist those impacted by Hurricane Matthew. We worked directly with credit union locations in the Carolinas to assist those members in the most need," Whaley noted. "Because of the overwhelming generosity, we are proud to provide an additional $20,000 to both the North Carolina Community Foundation and the Central Carolina Community Foundation to assist non-profits with ongoing relief efforts."
The donations are for the NCCF Disaster Relief Fund and the One SC Fund, which will support their respective grant programs for non-profit organizations that are helping Carolinians with Hurricane Matthew recovery. The One SC Fund has provided $1,045,500 directly to communities and homeowners to help get South Carolinians back into safe and secure homes following Hurricane Matthew. NCCF's Disaster Relief Fund has received record donations of more than $720,000 since Hurricane Matthew and more than $300,000 has already been allocated for distribution to 20 NCCF affiliates serving eastern North Carolina's hardest hit counties.
NCCF CEO and President Jennifer Tolle Whiteside said she was honored to accept the gift. "The Carolina Credit Union Foundation's generosity and recognition of the ongoing recovery efforts are a strong testament to the financial services sector's spirit of stewardship and philanthropy in our shared market area," she said.