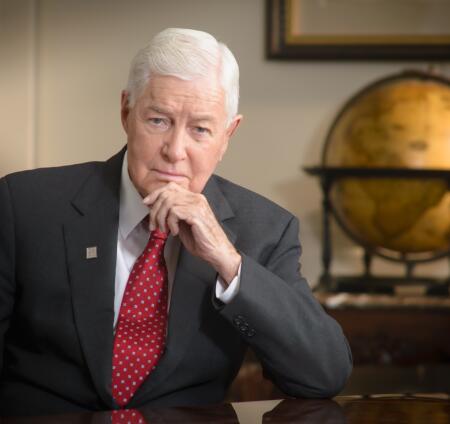 North Carolina Community Foundation's board and staff were saddened to learn of the May 26 death of Frank Brown Holding Sr.
Mr. Holding was a founding NCCF board member and also instrumental in the creation and success of the Johnston County Community Foundation, an NCCF affiliate formed in 1994. He was a pioneer in the banking industry and a member of the First Citizens Bank executive management team in NC and SC before retiring in 2014.
Mr. Holding was a generous and very often quiet, behind-the-scenes philanthropist. His obituary notes: "As a philanthropist, there were no projects too small or too large to capture his imagination."
Thad Woodard, retired head of the NC Bankers Association, is quoted in the Triangle Business Journal as characterizing Mr. Holding as an "iconic figure" in our state, "one with a history of being active in philanthropic causes, such as the North Carolina Community Foundation."
Mr. Holding's obituary noted that he loved the outdoors and especially his time working on his farm in Johnston County, a place he was happy to call home. He loved our state and its people, and all who knew him described him as humble and unpretentious. "No matter what, he treated you with dignity and respect, no matter your rank in life," said Larry Barbour in the Triangle Business Journal article. Barbour, CEO of North State Bank, was a friend.
In lieu of flowers, memorial gifts may be made to the Johnston County Fund, held with NCCF, at 3737 Glenwood Ave., Raleigh, NC 27612. Gifts also can be made online here. The online link also is available on every page of NCCF's website here by clicking the GIVE NOW button. Gifts also may be made to Campbell University or to a charity of one's choice.

Read Mr. Holding's complete obituary here.