The Swain County Community Foundation is mourning the loss of longtime friend of the Foundation John Hunt.
Hunt was famous for always playing in the mystery dinner theaters. He will be greatly missed by all.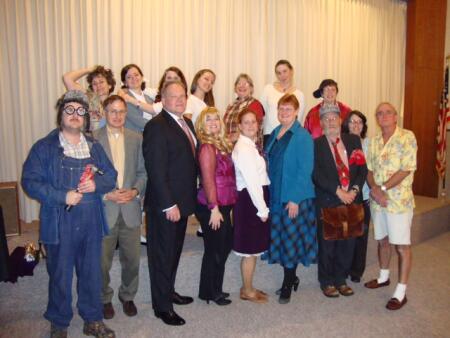 Below is his obituary, from the Asheville Citizen-Times.
Bryson City - John (Jack) Fitzgerald Hunt, Jr. 71, of Bryson City went to be with Jesus Tuesday, January 12, 2016 at his residence.
Jack served his country in the U.S. Coast Guard. He starred in many local theatrical productions along with multiple performances with the Swain County Community Mystery Dinners. He was a strong supporter of the Bryson City Presbyterian fourth Sunday Luncheons. Jack was an avid sports fanatic always cheering on his favorite, Georgia Tech.
He was preceded in death by his mother, Antoinette Mayes; and his brothers, David and Matthew Hunt.
Jack is survived by his father, John Sr.; three daughters, Karen Ellen, Meghan and Michaella; loving wife, Frances Cook; brothers, Philip (Leona) and Robert (Sally); and sisters, Mary and Julia. In addition, "Uncle Jack" was survived by many loving nieces, nephews, and in-laws.
A memorial service will be held at 1:00 pm Friday January 15, 2016 in the chapel of Crisp Funeral Home. Rev. Terry Hanna will officiate.
The family wishes to thank Life Path Hospice for their loving care.
In lieu of flowers, the family requests contributions be made to the Julia Hunt Scholarship Fund administered thru the NC Community Foundation, 4601 Six Forks Road, Suite 524, Raleigh, NC 27609, or to a charity of your choice.