The Swain County Community Foundation is mourning the loss of local attorney and longtime friend of the Foundation William (Billy) Richards.
Richards was famous for always playing the detective in the mystery dinner theaters. He will be greatly missed by all.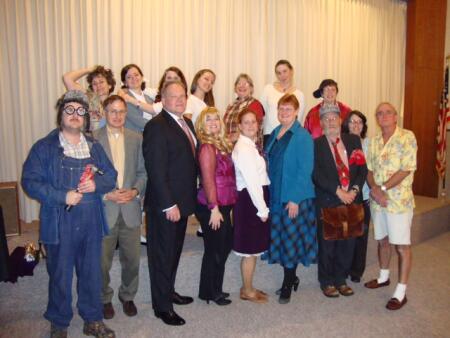 Below is his obtiuary, from the Asheville Citizen-Times on Nov. 10, 2015.
William L. "Billy" Richards of Bryson City, North Carolina died on November 7, 2015 after a hard fought battle with cancer.
Billy was born in 1952 in Atlanta, Georgia, where he was raised by the late William and Irmeth Richards. He attended public schools and then college in Georgia, earning a degree in philosophy from Georgia State University. He subsequently attended law school at the University of Georgia, graduating cum laude in 1980.
Following graduation, Billy practiced law in Georgia. In 1982, his love of outdoor activities led him to set aside the practice of law and move to Swain County, North Carolina to become a whitewater rafting guide. He worked for the Nantahala Outdoor Center for over fourteen years, rising through the ranks to become a Vice President. During that time, he led trips throughout the southeastern United States as well as through the Grand Canyon and in Chile.
In 1997, Billy returned to the practice of law. He set up shop in Bryson City, concentrating on real estate transactions. Billy's keen intellect, unwavering diligence and good humor made him a respected and admired practitioner. He was also active in the community, participating in fundraisers for the Swain County Community Foundation and coaching youth basketball and mock trial teams. An avid bicyclist and kayaker throughout his adult life, Billy often competed in local races and triathlons.
Billy is survived by his beloved wife of 20 years, Julie, and cherished daughters Jessie and Lily of Bryson City, North Carolina. He is also survived by his sister Nancy Richards of Atlanta; his mother and father-in-law Nan and Chuck Dauphiné of Asheville; his brothers-in-law Jon and Marc of Washington, D.C; and a multitude of treasured family and friends.
Cards of sympathy may be mailed to P.O. Box 1414, Bryson City, NC 28713. In lieu of flowers, the family requests that contributions be made in memory of Billy Richards to the "Julia Hunt Endowment" (provides scholarships for Swain County residents pursuing a degree at a university or college with volunteer experience in Swain County) or "PAWS: Placing Animals Within Society Endowment" (an animal shelter in Swain County). The address for either is: c/o North Carolina Community Foundation, 4601 Six Forks Road, Suite 524, Raleigh, NC 27609.
A memorial service open to the public will be held on November 21 at 2:00 p.m. at Southwestern Community College's Swain Center (the old Almond School) located on Highway 74 (street address is 60 Almond School Road, Bryson City). Additional details, including a potential alternate location for parking, will be posted on the following web site at some point before the service: www.lawfirmrichards.com